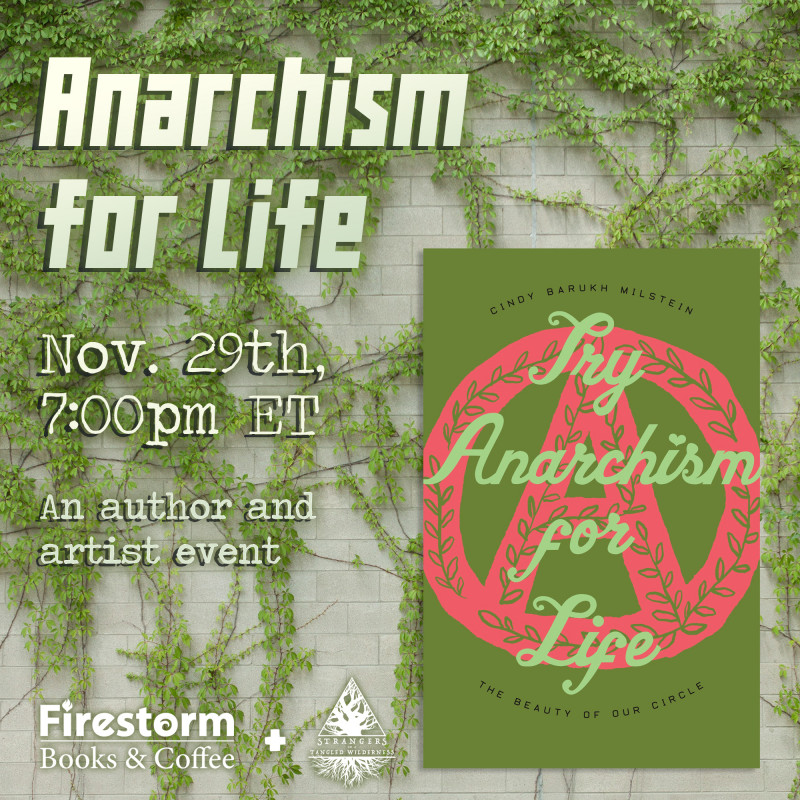 Nov 29th, 2022
"Try Anarchism For Life" Book Launch
A virtual book launch for Try Anarchism for Life, bringing together author Cindy Barukh Milstein and three contributing artists—Kevin Lo, Muqu, and N.O. Bonzo! This is the first book from Strangers in a Tangled Wilderness and members of their publishing collective will make an appearance as well.
What are some of the many beautiful dimensions of anarchism? In reply, Try Anarchism for Life: The Beauty of Our Circle blends gorgeous circle A drawings by twenty-six artists with Milstein's words, forming picture-prose that are at once inviting and playful, poignant and dreamy. The pieces encourage us to notice and expand on liberatory practices, especially in a time when so much feels impossible. In depicting how anarchism gifts us lives worth living, this book warms ailing hearts and offers tender succor.
Cindy Barukh Milstein, a longtime anarchist organizer and maker of do-it-ourselves spaces, is author of Anarchism and Its Aspirations, coauthor of Paths toward Utopia, and editor of anthologies such as Rebellious Mourning: The Collective Work of Grief and Deciding for Ourselves: The Promise of Direct Democracy.
Kevin Yuen Kit Lo is a graphic designer, educator, and community organizer based in Montréal/Tiohti:àke. He is the creative director of LOKI, a design studio working at the intersections of graphic design, cultural production, and radical social change.
Muqu is an anarchist with roots in the south. They hate borders and love birds.
N.O. Bonzo is an anarchist illustrator, printmaker, and muralist based out of Portland, Oregon. They are the illustrator of Mutual Aid: An Illuminated Factor of Evolution (PM Press, 2021). More of their work can be found at www.nobonzo.com.
Strangers in a Tangled Wilderness is a collectively-run publisher of radical culture. With your support, we publish stories, games, comics, podcasts, recipes, music, and yes, even some essays and theory www.tangledwilderness.org