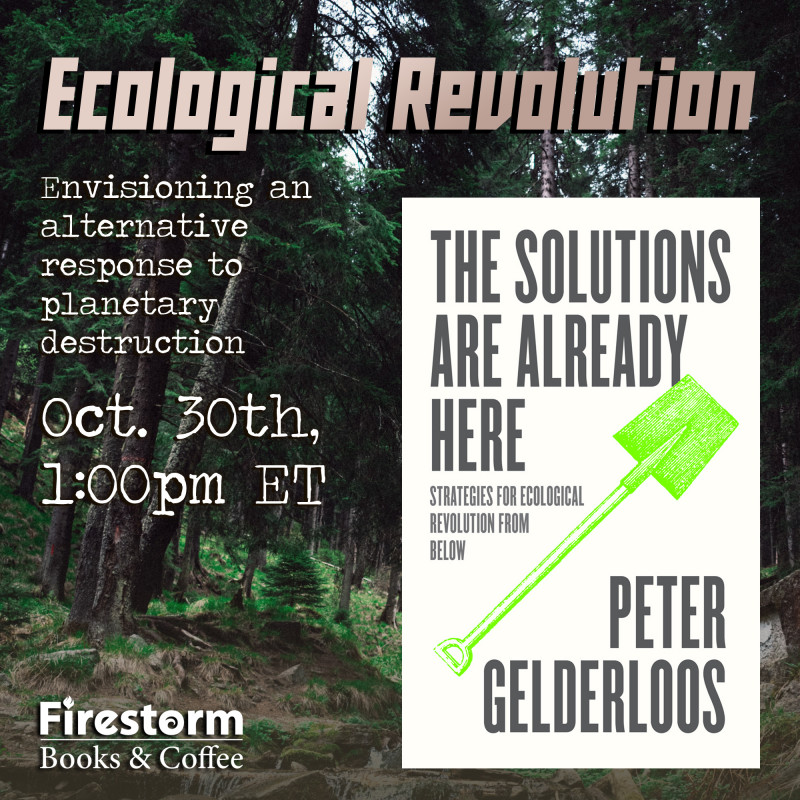 Oct 30th, 2022
Ecological Revolution
Anarchist author Peter Gelderloos discusses his latest book,The Solutions are Already Here: Strategies of Ecological Revolution from Below, in conversation with community organizer Sarah Wochele.
Across the world, grassroots networks of local communities are working to realize their visions of an alternative revolutionary response to planetary destruction, often pitted against the new megaprojects promoted by greenwashed alternative energy infrastructures and the neocolonialist, technocratic policies that are the forerunners of the Green New Deal. Through interviews with food sovereignty activists, Indigenous communities reforesting their lands, and anarchists fighting biofuel plantations in Indonesia, Gelderloos argues that international governmental responses to the climate emergency are structurally incapable of solving the crisis.
Peter Gelderloos is a writer and movement participant. He is the author of How Nonviolence Protects the State, Anarchy Works and Worshiping Power: An Anarchist View of Early State Formation. He has contributed chapters to anthologies Keywords for Radicals and Riots and Militant Occupations.

Sarah Wochele is a community organizer, researcher and social change worker committed to eco-social liberation.