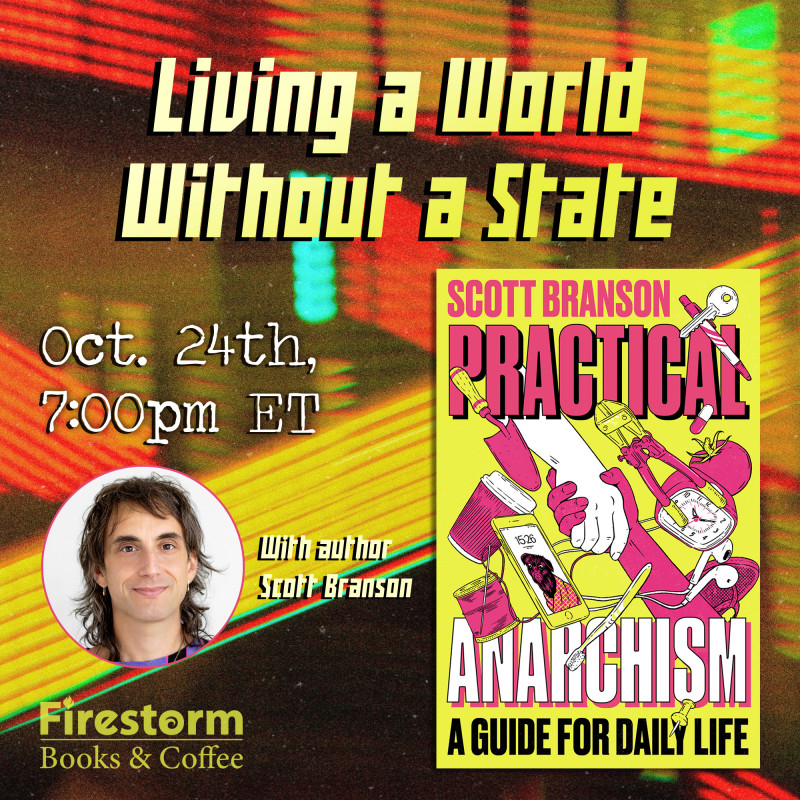 Oct 24th, 2022
Living a World Without a State
Author and educator Scott Branson presents their new book, Practical Anarchism, in conversation with writer Vicky Osterweil.
Practical Anarchism: A Guide for Daily Life shows how anarchism can help you find fulfillment, empathy, and liberation in the everyday. From relationships to school, work, art, even the way you organize your time, Branson provides practical examples enriched by history and theory to empower you to break free.
Scott Branson is a queer and trans writer, translator, teacher, artist, and anarchist organiser, living in Western North Carolina. They translated Guy Hocquenghem's second book, Gay Liberation After May '68, as well as Jacques Lesage De La Haye's The Abolition of Prison, and co-edited Surviving the Future: Abolitionist Queer Strategies. They are also a frequent co-host on the anarchist podcast The Final Straw.
Vicky Osterweil is a writer, editor, and agitator and a regular contributor to The New Inquiry. Her book In Defense of Looting: A Riotous History of Uncivil Action was released in 2020 by Bold Type Books. Her writing has also appeared in The Baffler, The Nation, The Rumpus, Real Life, and Al Jazeera America.