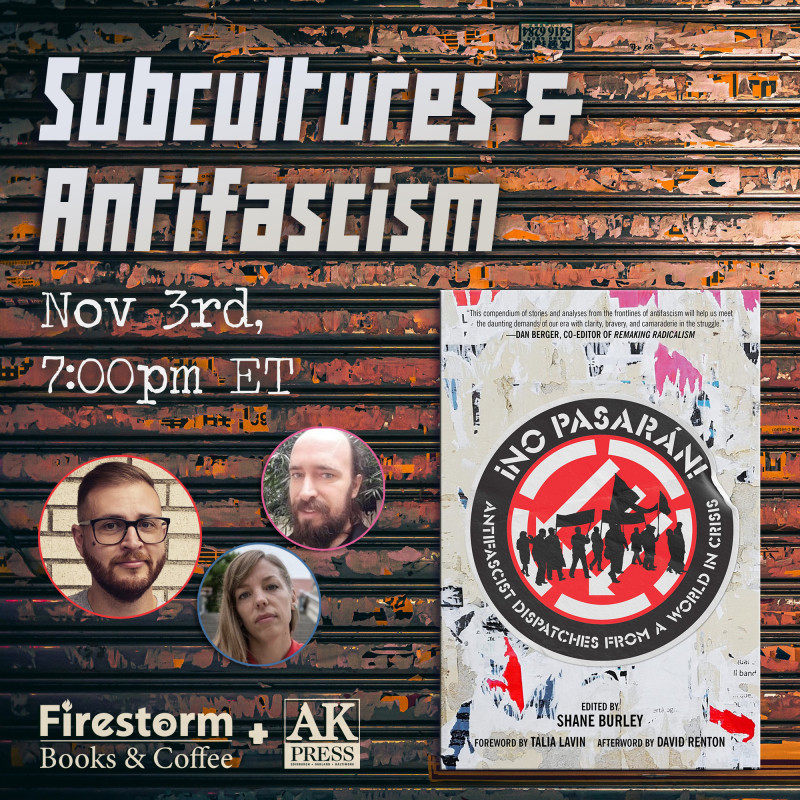 Nov 3rd, 2022
Subcultures & Antifascism
Join for this virtual event to celebrate the release of ¡No Pasarán! Antifascist Dispatches from a World in Crisis. Editor Shane Burley will moderate a discussion with contributors Hilary Moore and Ryan Smith.
¡No Pasarán! Antifascist Dispatches from a World in Crisis is an anthology of antifascist writing that takes up the fight against white supremacy and the far-right from multiple angles. From the history of antifascism to today's movement to identify, deplatform, and confront the right, and the ways an insurgent fascism is growing within capitalist democracies, a myriad of voices come together to shape the new face of antifascism in a moment of social and political flux.
Shane Burley is an author based in Portland, Oregon. He is the author of Why We Fight: Essays on Fascism, Resistance, and Surviving the Apocalypse (AK Press, 2021) and Fascism Today: What It Is and How to End It (AK Press, 2017), and has appeared in a number of other anthologies and journals. His work has been featured in places such as NBC News, Al Jazeera, The Baffler, The Independent, Jacobin, The Daily Beast, Bandcamp Daily, Jewish Currents, Haaretz, and Full Stop.
Hilary Moore is a political educator, writer, and organizer. She co-authored No Fascist USA: The John Brown Anti-Klan Committee and Lessons for Today's Movements (City Lights) with James Tracy. Hilary lives in Louisville, Kentucky.
Ryan Smith is an anti-fascist Heathen organizer, teacher, and writer. He is the author of The Way of Fire & Ice: The Living Tradition of Norse Paganism. He lives in San Francisco, California.