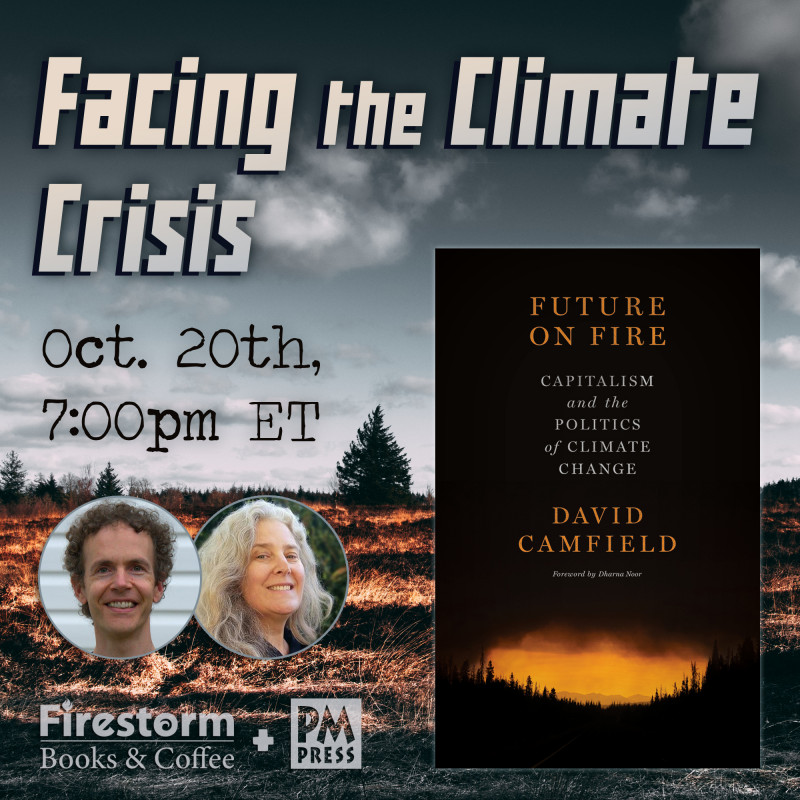 Oct 20th, 2022
Facing the Climate Crisis
Author David Camfield is joined by activist and organizer Cynthia Kaufman for this virtual event to discuss Camfield's new book, Future on Fire: Capitalism and the Politics of Climate Change.
Future on Fire argues that a just transition from fossil fuels and other drivers of climate change will not be delivered by business people or politicians that support the status quo. Nor will electing green left leaders be enough to overcome the opposition of capitalists and state bureaucrats. Only the power of disruptive mass social movements has the potential to force governments to make the changes we need, so supporters of climate justice should commit to building them. Confronting the question "what if heating above 2 degrees becomes unavoidable?" and refusing to despair, Camfield argues that even a ravaged planet is worth fighting for--and that ultimately the only solution to the ecological crisis created by capitalism is a transition to ecosocialism.
David Camfield teaches labour studies and sociology at the University of Manitoba and has been involved in social justice efforts since high school. He is the author of We Can Do Better: Ideas for Changing Society and Canadian Labour in Crisis: Reinventing the Workers' Movement.
Cynthia Kaufman is the director of the Vasconcellos Institute for Democracy in Action, where she also teaches community organizing and philosophy. The author of The Seas Is Rising and So Are We, she is a lifelong social change activist, having worked on issues such as tenants' rights, police abuse, union organizing, international politics, and most recently climate change.