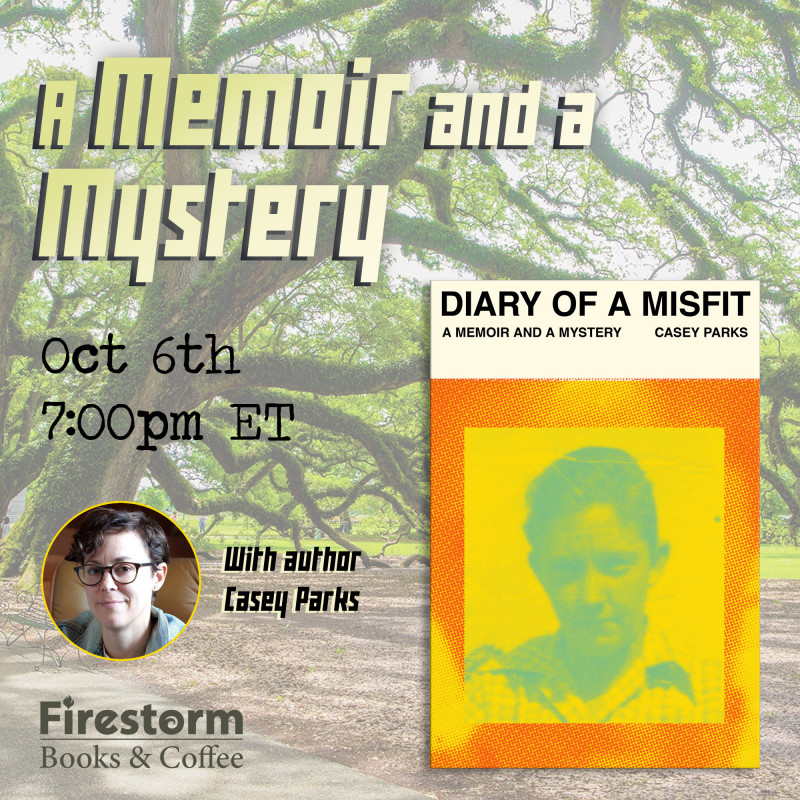 Oct 6th, 2022
A Memoir and a Mystery
Author Casey Parks joins our co-op for this virtual conversation with Claire Dederer to discuss Parks' new memoir, Diary of a Misfit.
When Casey Parks came out as a lesbian in college back in 2002, she assumed her life in the South was over. Her mother shunned her, and her pastor asked God to kill her. But then Parks's grandmother, a stern conservative who grew up picking cotton, pulled her aside and revealed a startling secret. I grew up across the street from a woman who lived as a man, and then implored Casey to find out what happened to him. Diary of a Misfit is the story of Parks's life-changing journey to unravel the mystery of Roy Hudgins, the small-town country singer from grandmother's youth, all the while confronting ghosts of her own.
As Parks traces Roy's story, she is forced to reckon with long-buried memories and emotions surrounding her own sexuality, her fraught Southern identity, her tortured yet loving relationship with her mother, and the complicated role of faith in her life. With an enormous heart and an unstinting sense of vulnerability, Parks writes about finding oneself through someone else's story, and about forging connections across the gulfs that divide us.
Casey Parks is a reporter for The Washington Post who covers gender and family issues. She was previously a staff reporter at the Jackson (Miss.) Free Press and spent a decade at The Oregonian, where she wrote about race and LGBTQ+ issues and was a finalist for the Livingston Award. Her articles have appeared in The New York Times Magazine, The New Yorker, The Oxford American, ESPN, USA Today, and The Nation. A former Spencer Fellow at Columbia University, Parks was most recently awarded the 2021 J. Anthony Lukas Work-in-Progress Award for her work on Diary of a Misfit. Parks lives in Portland.
Claire Dederer is the author of Love and Trouble, and the New York Times best-selling memoir Poser: My Life in Twenty-Three Yoga Poses, which has been translated into twelve languages. A book critic, essayist, and reporter, Dederer is a longtime contributor to The New York Times and has also written for The Atlantic, Vogue, Slate, The Nation, and New York magazine. She lives near Seattle with her family.