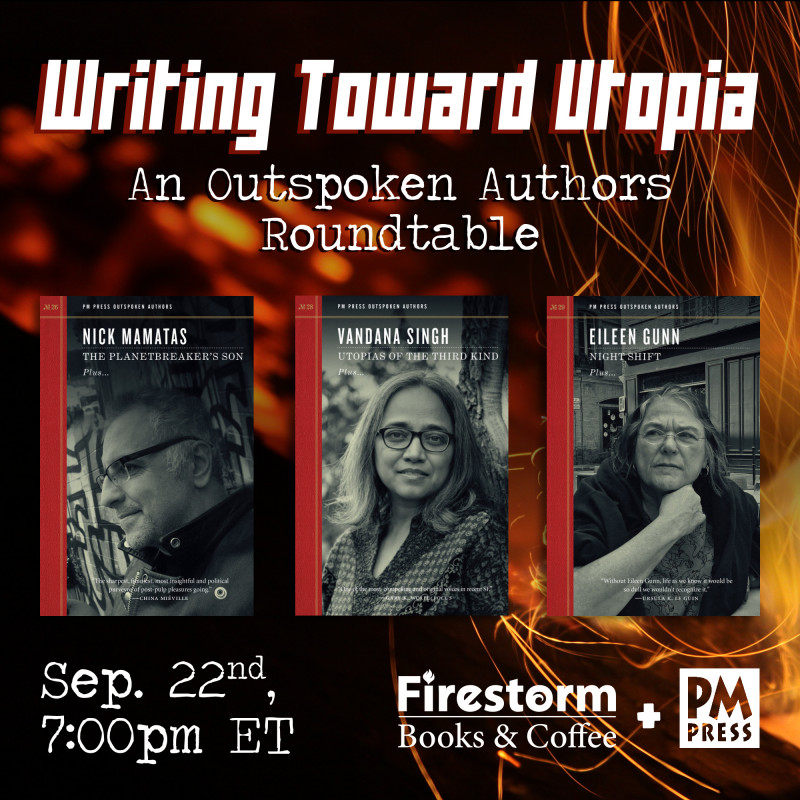 Sep 22nd, 2022
Writing Toward Utopia
Join us for this virtual roundtable discussion between PM Press Outspoken Authors Eileen Gunn (Night Shift), Vandana Singh (Utopias of the Third Kind), and Nick Mamatas (The Planetbreaker's Son).
In PM's Outspoken Authors series, today's edgiest fiction writers showcase their most provocative and politically challenging stories. Outspoken Authors books, designed to fit your pocket and stretch your mind, are edited by award-winning Speculative Fiction author Terry Bisson, and include in-depth interviews, short stories and novella, essays, bios, and bibliographies.
Eileen Gunn is a science fiction author and editor based in Seattle, Washington, who began publishing in 1978. Her story "Coming to Terms," inspired, in part, by a friendship with Avram Davidson, won the Nebula Award for Best Short Story in 2004. Several others have been nominated for the Hugo, World Fantasy, and Locus awards. Gunn has a background in high-tech advertising and marketing; she wrote advertising for Digital Equipment Corporation in the 1970s, and was Director of Advertising at Microsoft in the 1980s. A seasoned SF pro, she is on the board of directors of the Clarion West Writers Workshop.
Vandana Singh is a writer of speculative fiction and a professor of physics at a small and lively public university near Boston. Her critically acclaimed short stories have been reprinted in numerous best-of-year anthologies, and her most recent collection, Ambiguity Machines and Other Stories (Small Beer Press and Zubaan, 2018) was a finalist for the Philip K. Dick award. A particle physicist by training, she has been working for a decade on a transdisciplinary, justice-based conceptualization of the climate crisis at the nexus of science, pedagogy, and society. She is a Fellow of the Center for Science and the Imagination at Arizona State University. She was born and raised in India, where she continues to have multiple entanglements, both personal and professional, and divides her time between New Delhi and the Boston area. She can be found on the web at http://vandana-writes.com/.
Nick Mamatas is an author, anthologist, editor, and bookseller living in Oakland, California. His early nonfiction about digital culture and politics appeared in magazines such as New Observations, Artbyte, and the Village Voice. Nick's first novel, Move Under Ground crossed the voice of the Beat movement with the themes of H.P. Lovecraft and became an instant cult classic. His other novels include the radical noir Love Is the Law, the satirical science fiction title Under My Roof, and the PM Press novel Sensation, which both prefigured and predicted the rise and fall of the Occupy movement. Nick's fiction and editorial work has won the Bram Stoker Award and has been nominated for four other Stokers, two World Fantasy awards, two Hugo awards, two Locus Awards, and a Shirley Jackson award.