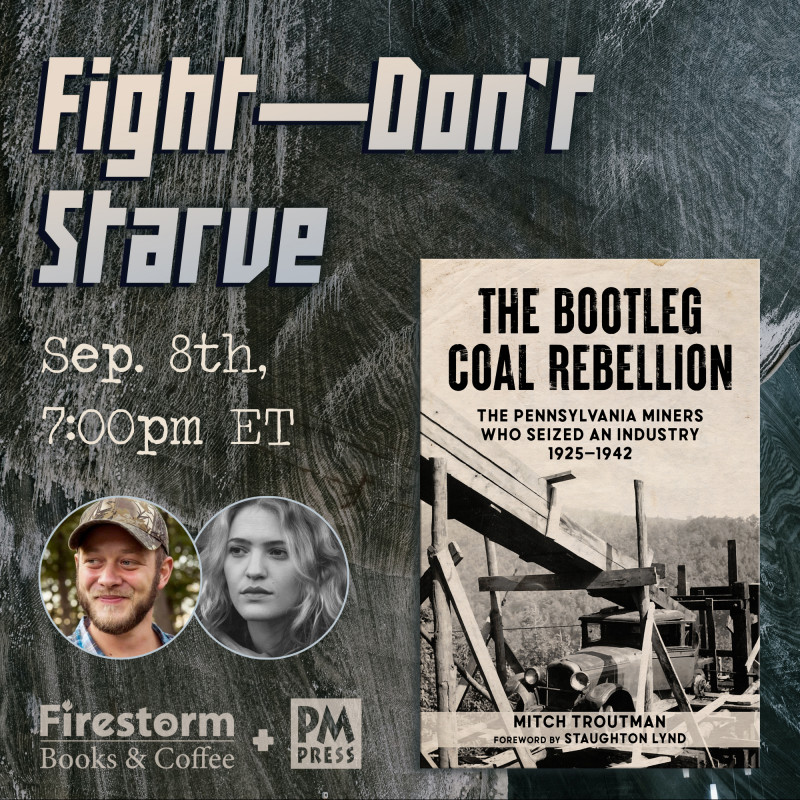 Sep 8th, 2022
Fight—Don't Starve
Join author Mitch Troutman in conversation with creative activist Eleanor Goldfield in this virtual event to celebrate the release of Troutman's new book, The Bootleg Coal Rebellion: The Pennsylvania Miners Who Seized an Industry, 1925–1942.
Told with great intimacy and compassion, The Bootleg Coal Rebellion uncovers a long-buried history of resistance and resilience among depression-era miners in Pennsylvania, who sunk their own mines on company grounds and fought police, bankers, coal companies and courts to form a union that would safeguard not just their livelihoods, but protect their collective autonomy as citizens and workers for decades.

Community and Labor organizer Mitch Troutman brings this explosive and accessible American tale to life through the bootleggers' own words. Scholars, historians, organizers and activists will celebrate this story of the people who literally seized mountains and stood their ground to create the Equalization movement, the miners' union democracy movement, and the Communist-led Unemployed Councils of the anthracite region.

Mitch Troutman is a writer, educator, organizer, and jack-of-all-trades living in Central Pennsylvania. He is a direct descendent of bootleg coal miners and belongs to the group Anthracite Unite.
Eleanor Goldfield is a creative radical, journalist and filmmaker. She works with a variety of independent outlets in both written and photojournalism. She is the co-founder of the independent media aggregate RadIndieMedia.com, one of the 2020 recipients of the "Women and Media Award" presented by The Women's Institute for Freedom of the Press, and is currently a board member of the Media Freedom Foundation. She is the co-host of the podcast Common Censored along with Lee Camp, and the Project Censored radio show along with Mickey Huff. Her first long-form, deep-dive video piece, "Hard Road of Hope," covers past and present radicalism in the resource colony known as West Virginia, and has garnered national as well as international acclaim through media and film festivals. Besides touring, performing, and media work, she assists in frontline action organizing and trainings. Her work can be found at ArtKillingApathy.com.