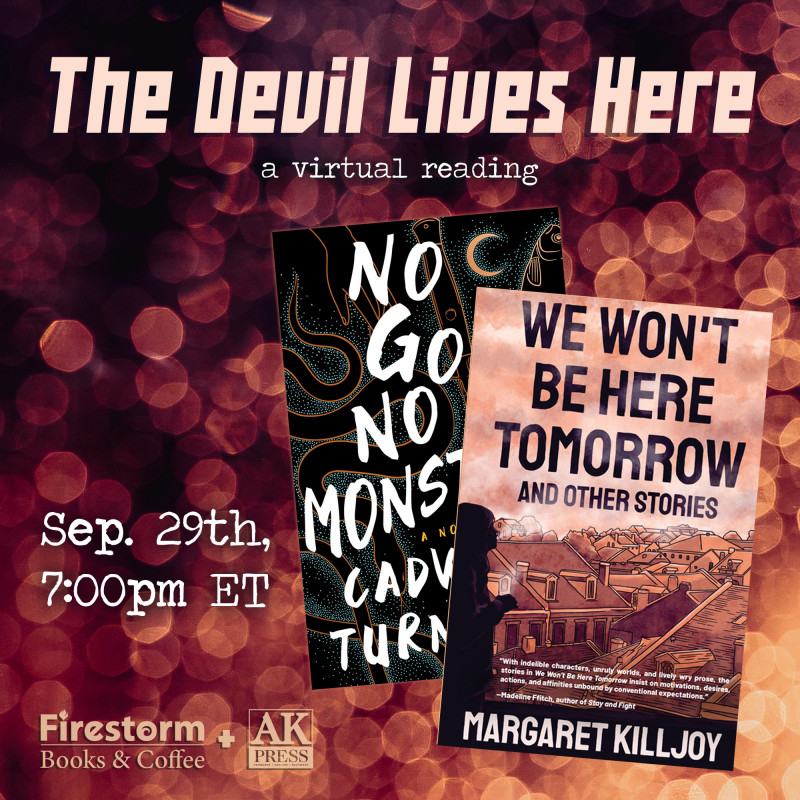 Sep 29th, 2022
The Devil Lives Here
Join us for a virtual reading event to celebrate the release of Margaret Killjoy's new fiction collection We Won't Be Here Tomorrow and Cadwell Turnbull's paperback release of No Gods, No Monsters.
Margaret Killjoy's stories have appeared for years in science fiction and fantasy magazines both major and indie. We Won't Be Here Tomorrow collects the best previously published work along with brand new material. Readers will encounter a hacker who programs drones to troll CEOs into quitting; a group of LARPers who decide to live as orcs in the burned forests of Oregon; queer, teen love in a death cult; the terraforming of a climate-changed Earth; polyamorous love on an anarchist tea farm during the apocalypse; and much more. Killjoy writes fearless, mind-expanding fiction.
At the start of Cadwell Turnbull's No Gods, No Masters, Laina gets the news that her brother has been shot and killed by Boston cops. But what looks like a case of police brutality soon reveals something much stranger. Monsters are real. And they want everyone to know it. As creatures from myth and legend come out of the shadows, seeking safety through visibility, their emergence sets off a chain of seemingly unrelated events. At the center is a mystery no one thinks to ask: Why now? What has frightened the monsters out of the dark? The world will soon find out.
Margaret Killjoy is a transfeminine author, musician, and podcaster living in the Appalachian mountains. She is the author of A Country of Ghosts as well as the Danielle Cain novella series, and is the host of the community and individual preparedness podcast Live Like the World is Dying. She can be found on Twitter @magpiekilljoy.
Cadwell Turnbull's short fiction has appeared in The Verge, Lightspeed, Nightmare, Asimov's Science Fiction and several anthologies, including The Best American Science Fiction and Fantasy 2018 and The Year's Best Science Fiction and Fantasy 2019. His novel The Lesson was the winner of the 2020 Neukom Institute Literary Award in the debut category. The novel was also shortlisted for the VCU Cabell Award and longlisted for the Massachusetts Book Award. Turnbull lives in Raleigh and teaches at North Carolina State University.