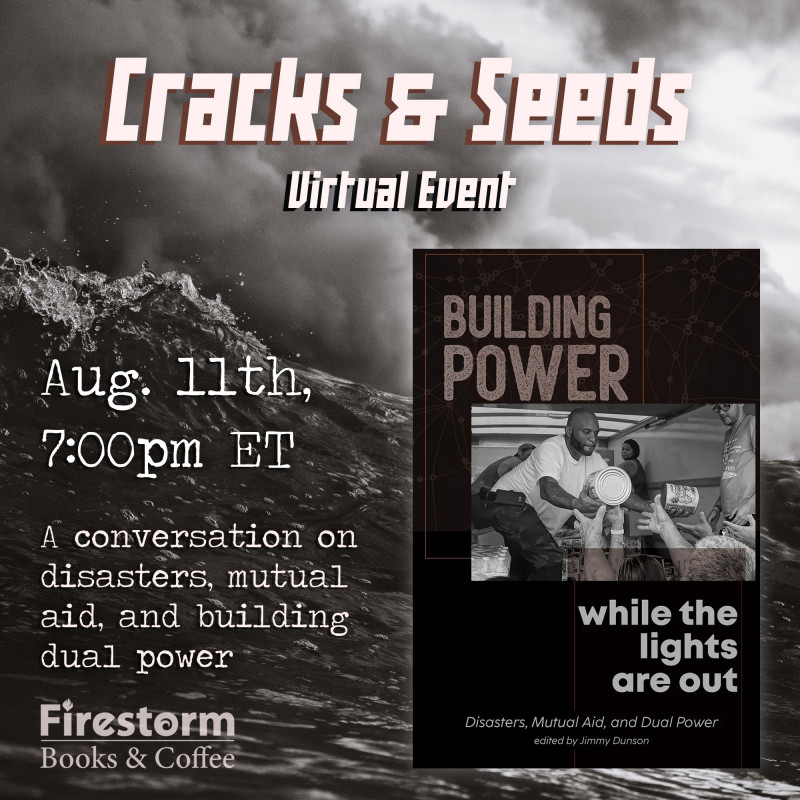 Aug 11th, 2022
Cracks & Seeds
Join for this virtual panel discussion to celebrate the release of Building Power While the Lights Are Out: Disasters, Mutual Aid, and Dual Power, moderated by editor Jimmy Dunson (Mutual Aid Disaster Relief), and featuring contributors Suncere Ali Shakur (formerly Common Ground Relief, now MADR), carla joy bergman (Grounded Futures), and Janet Kent (Rural Organizing and Resilience).
Disaster capitalism, although still currently dominant, is no longer the only powerful force when disasters occur. There is a growing movement of movements engaged in decentralized, liberatory disaster relief, rooted in the values of mutual aid and solidarity. These efforts, grounded in radical social movement organizing, offer a direct action alternative: meeting the survival needs of the people and building power from below, while challenging the forces of money and power. This mutual aid disaster relief movement is a broad ecosystem, with diverse organizations, positions, and practices. Contributors to Building Power While the Lights are Out offer a valuable road map to meet the climate crisis head on, struggle for a just recovery when disasters do hit, reimagine our relationships to each other and the planet, and the ability to meaningfully build and exercise power.
Jimmy Dunson is a writer, activist, and co-founder of Mutual Aid Disaster Relief. Jimmy has a passion for building mutual aid survival programs and has been involved with many movements for a better world including refugee solidarity efforts, peer support, farmworker justice, solidarity-based disaster relief, and more.
carla joy bergman is an independent scholar, writer, podcaster, and mom who lives and works on the occupied and ancestral lands of the xwməθkwəym (Musqueam), Skwxwú7mesh (Squamish), and Sel̓íl̓witulh (Tsleil-Waututh) peoples (vancouver, canada). She has spent the past two decades working with community to create collaborative multi-media platforms that range from print to films, including their work as the co-founder of Grounded Futures, a multidisciplinary arts project and podcast platform. She is the coauthor of Joyful Militancy, editor of Trust Kids, and launched a pamphlet series in 2022 called lowercase at Listening House Media.

Suncere Ali Shakur is a Washington DC native and homeless advocate who has organized in around issues related to gay rights, police brutally, fair housing, and the World Bank, and is well known as a co-founder of Common Ground Relief in New Orleans. Shakur is now organizing in Cleveland, Ohio, one of the nation's poorest cities. Shakur was awarded Hero of the Year for providing much needed supplies during the COVID-19 pandemic.
Rural Organizing and Resilience formed in Madison County, NC in the spring of 2017 in response to the need for a rural voice working for all who call these mountains home. ROAR works to strengthen connections and respect among all people in our mountain communities by countering systems of oppression through education, outreach, empowerment and mutual aid.