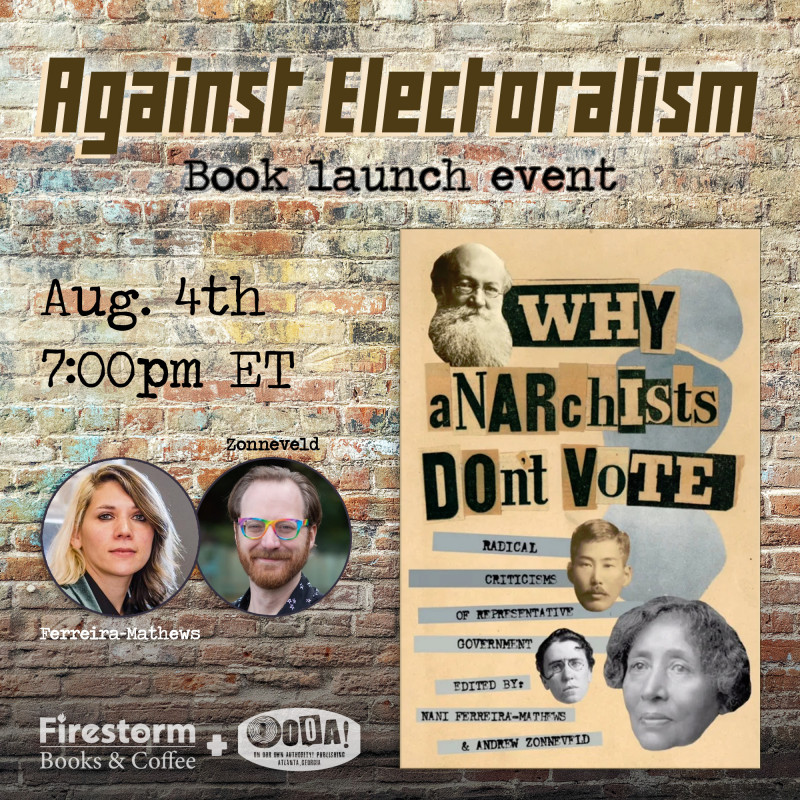 Aug 4th, 2022
Against Electoralism
Editors Nani Ferreira-Mathews and Andrew Zonneveld join our co-op for this virtual discussion on the release of their latest collection, Why Anarchists Don't Vote: Radical Criticisms of Representative Government.
Since the middle of the nineteenth century, anarchists have maintained a sharp criticism of representative government and have advocated voter abstention. Anarchists have also been among the earliest fighters for labor organization, reproductive freedom, queer liberation, and anti-fascism.
This collection of classic anarchist writings highlights and explains anarchists' enduring critique of electoralism, collecting short essays by Michael Bakunin, Peter Kropotkin, Lucy Parsons, Emma Goldman, Alexander Berkman, Kotoku Shusui, Élisée Reclus, Errico Malatesta, and a poem by Voltairine De Cleyre. With an afterword by Cindy Milstein.
Nani Ferreira-Mathews is a freelance journalist, independent musician, and activist currently living in Baltimore, Maryland. In 2011, she was an organizer during the most radical days of the Occupy Wall Street movement in New York City. As an independent scholar, she has an interest in communal decision-making practices and communication styles. She has studied squats, communes, and intentional communities in North America, Europe, South America, and the Middle East.
Andrew Zonneveld is an independent scholar, writer, and musician from Atlanta, Georgia. He is the editor of The Commune: Paris, 1871 and To Remain Silent is Impossible: Emma Goldman & Alexander Berkman in Russia.