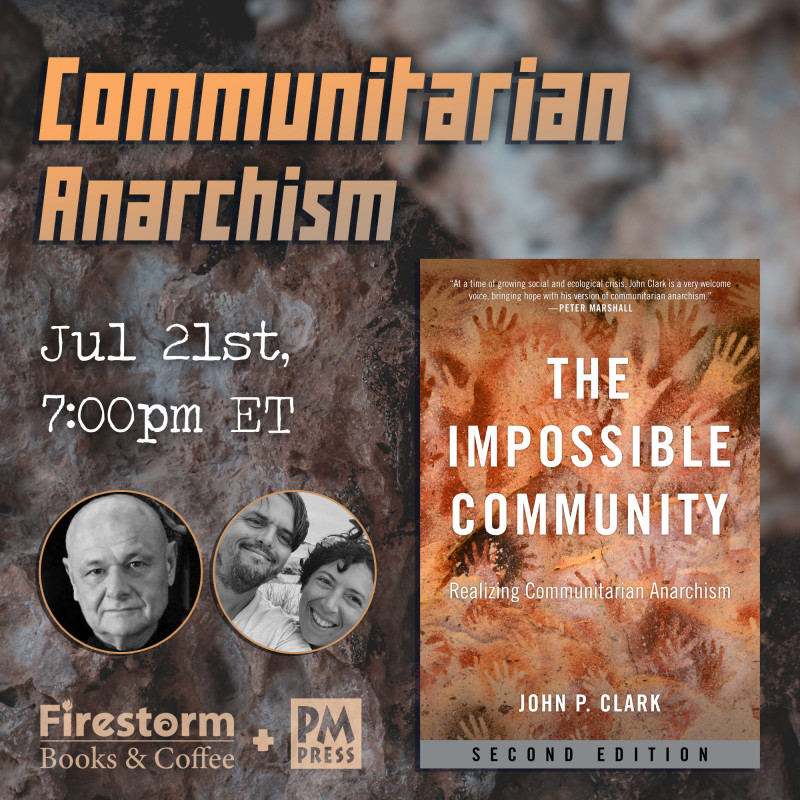 Thursday, Jul 21st, 7:00pm – 8:30pm ET
Communitarian Anarchism
A virtual event featuring John P. Clark, in discussion with artists Liz Lessner and Mat Keel, about the updated edition of his book The Impossible Community: Realizing Communitarian Anarchism and their work with the project Yes We Cannibal and La Terre Institute for Community and Ecology.
In this stunningly original work, John P. Clark skillfully argues that a free and just social order requires a radical transformation of the modes of domination exercised through social ideology, the social imaginary, the social ethos, and social institutional structures. Ambitious in scope and compelling in its strength and imagination, The Impossible Community offers readers an accessible theoretical framework along with concrete case studies to show how contemporary anarchist practice continues a long tradition of successfully synthesizing personal and communal liberation. This provocatively innovative work will appeal not only to students of anarchism and political theory but also to activists and anyone interested in making the world a better place.
John P. Clark is a philosopher, activist, and educator. His books include The Anarchist Moment; Anarchy, Geography, Modernity; and Between Earth and Empire, and, as Max Cafard, The Surregionalist Manifesto and Other Writings, Surregional Explorations, and Lightning Storm Mind. He is director of La Terre Institute for Community and Ecology.
Liz Lessner is a sculptor, educator, and writer. She creates novel sensory experiences by combining traditional fabrication techniques with emerging technologies. She is closely engaged with the work of Suely Rolnik, Bernard Stiegler, and Nigel Thrift. Liz created the Sensory Engagement Laboratory in Washington DC in 2018 which has found multiple homes including online and at YWC.
Mat Keel is completing a PhD in Anthropology, Geography and Philosophy at Louisiana State University. His experimental ethnographic dissertation and accompanying film amends new ecological thought with insights drawn from the multifold emergence of theories of the psychological unconscious, race and nature. He is a practicing studio artist working with sculpture, film and text and a practicing Buddhist.