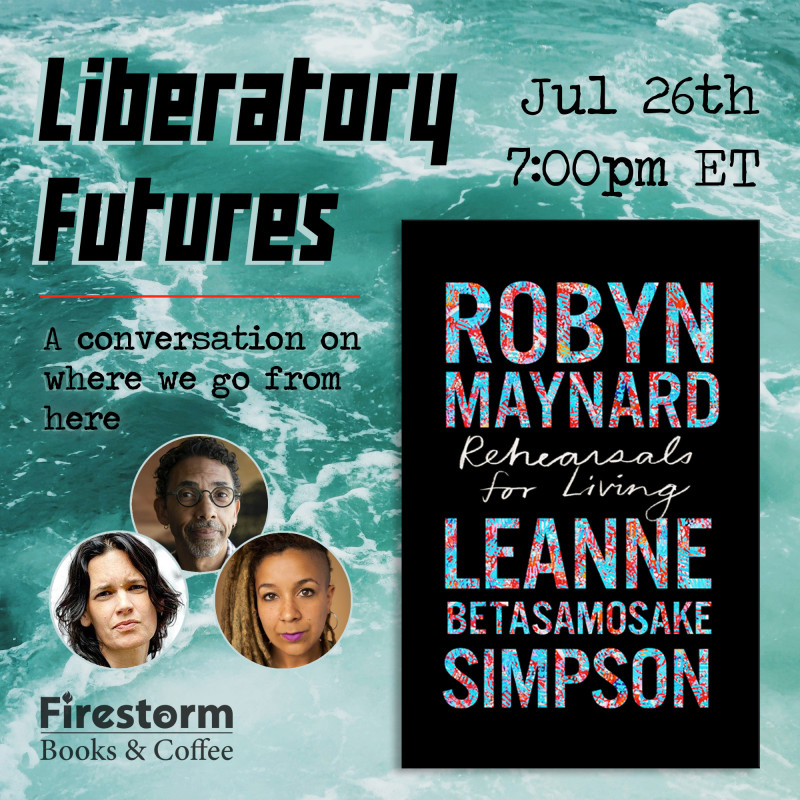 Jul 26th, 2022
Liberatory Futures
To celebrate the release of their new book, Rehearsals for Living, Robyn Maynard and Leanne Betasamosake Simpson join for this virtual event to discuss their powerful exchange on the subject of where we go from here. Their conversation will be moderated by author and historian Robin D. G. Kelley.
A revolutionary collaboration about the world we're living in now, between two of our most important contemporary thinkers, writers and activists. Rehearsals is a captivating book, part debate, part dialogue, part lively and detailed familial correspondence between two razor-sharp writers convening on what it means to get free as the world spins into some new orbit. In a genre-defying exchange, the authors collectively envision the possibilities for more liberatory futures during a historic year of Indigenous land defense, prison strikes, and global-Black-led rebellions against policing.

Robyn Maynard is a Black feminist scholar based in Toronto. She is the author of Policing Black Lives: State Violence in Canada from Slavery to the Present, published with Fernwood Publishing in 2017. Her work has also appeared in the Toronto Star, the Montréal Gazette, Scholar & Feminist, and has been translated into French and German.
Leanne Betasamosake Simpson is a renowned Michi Saagiig Nishnaabeg scholar, writer and artist, who has been widely recognized as one of the most compelling Indigenous voices of her generation. She has lectured and taught extensively at universities across Canada and the United States and has twenty years experience with Indigenous land based education. She holds a PhD from the University of Manitoba, and teaches at the Dechinta Centre for Research & Learning in Denendeh.

Robin D. G. Kelley teaches History at UCLA and is the author of several books, including Freedom Dreams: The Black Radical Imagination and Hammer and Hoe: Alabama Communists During the Great Depression.