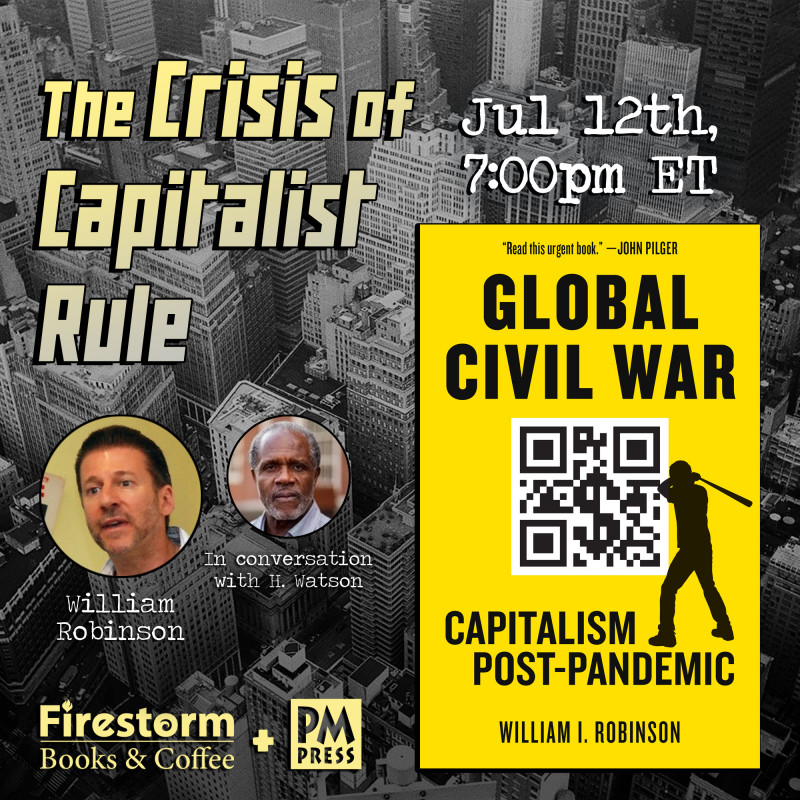 Tuesday, Jul 12th, 7:00pm – 8:30pm ET
The Crisis of Capitalist Rule
William I. Robinson joins for this virtual event in conversation with professor Hilbourne A. Watson to discuss the release of Robinson's new book, Global Civil War: Capitalism Post-Pandemic

Global Civil War provides a big-picture account of how the coronavirus pandemic and new digital technologies have drastically transformed capitalism and the entire global economy and society. Analyzing the concentration of power and control in the hands of corporate conglomerates, tech giants, megabanks, and the military-industrial complex, the book documents the extent of unprecedented global inequalities as the mass of humanity faces violent dispossession and uncertain survival.
William I. Robinson is Distinguished Professor of Sociology, Global Studies, and Latin American Studies at the University of California at Santa Barbara. Among his many books are Global Capitalism and the Crisis of Humanity (2014); Into the Tempest: Essays on the New Global Capitalism (2018); and The Global Police State (2020).
Hilbourne A. Watson is Professor Emeritus, Department of International Relations, Bucknell University, Lewisburg, Pennsylvania. His publications include Errol Walton Barrow and the Postwar Transformation of Barbados: The Late Colonial Period, The Caribbean in the Global Political Economy and Globalization, Sovereignty and Citizenship in the Caribbean.