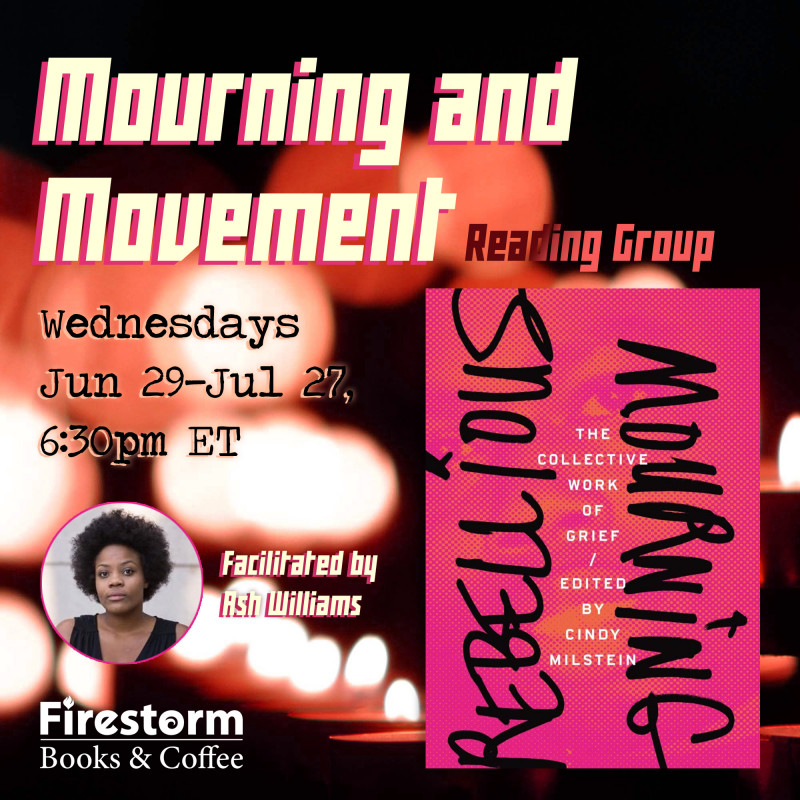 Wednesday, Jun 29th, 6:30pm – 8:00pm ET
Mourning and Movement
Every Wednesday from June 2022 until July 2022
Due to a schedule conflict, this reading group will begin one week later than the originally stated June 22nd. There will be no meeting on June 22nd.
Please join us as we host Ash Williams for a five-week virtual reading group on Rebellious Mourning: The Collective Work of Grief, edited by Cindy Milstein. The intention of this reading group is to hold space for anyone experiencing or navigating loss and grief, learning to hold space for grievers and folks experiencing loss, and folks wanting to connect to other people who are studying grief and loss practices. For those interested in attending, there is no need to have read the book to join for the introductory meeting on Wednesday, June 29th!
Cindy Milstein's Rebellious Mourning is a collection of essays exploring the power of collective grief as a catalyst to collective resistance. Addressing tragedies from Fukushima to Palestine, incarceration to eviction, AIDS crises to border crossings, and racism to sexual assault, the intimate yet tenacious writing in this volume shows that mourning can pry open spaces of contestation and reconstruction, empathy and solidarity. With contributions from Claudia Rankine, Sarah Schulman, David Wojnarowicz, Leanne Betasamosake Simpson, David Gilbert, and nineteen others.
Ash Williams is an anti-carceral and reproductive justice organizer. He received his BA in Philosophy from UNC Charlotte in 2014 and his MA in Ethics and Applied Philosophy from UNC Charlotte in 2015. For the last 4 years, Ash has been vigorously fighting to expand abortion access by funding abortions and training other people to become abortion doulas.

Content Warning: This event may include discussion of sexual assault, violence and death or dying.