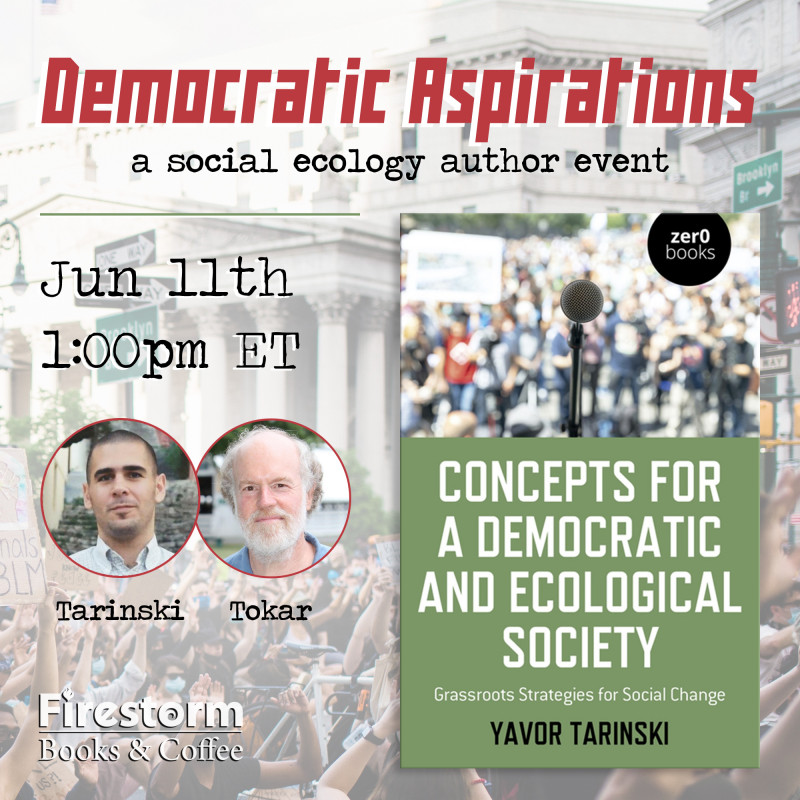 Jun 11th, 2022
Democratic Aspirations
Join for this virtual discussion between Yavor Tarinski and Brian Tokar about Tarinski's new book, Concepts for a Democratic and Ecological Society.
In Concepts for a Democratic and Ecological Society, Yavor Tarinski examines the fundamental conflict between democratic aspirations and the imposed norms of capitalism, the potential for directly democratic and ecologically designed cities, the imperative to renew the commons, and the prospects for a genuine solidarity economy to overturn the ravages of capitalist economic growth. It critiques bureaucratic, technocratic and conspiracist tendencies both in mainstream discourse and on the Left, and offers a compelling and uplifting vision of a thoroughly transformed social order.
Yavor Tarinski is an independent researcher, activist and author. He participates in social movements around the Balkans, as well as in transnational organizations, dedicated to the production of grassroots knowledge. He is a member of the administrative board of the Transnational Institute of Social Ecology, of the editorial board of the Greek digital journal & publications Aftoleksi, as well as bibliographer at Agora International.
Brian Tokar is an activist and author, a lecturer in Environmental Studies at the University of Vermont, and a long-time faculty and board member of the Institute for Social Ecology. He is the author of The Green Alternative (1987, Revised 1992), Earth for Sale (1997), and Toward Climate Justice: Perspectives on the Climate Crisis and Social Change (2010, Revised 2014), and he has also edited three volumes on biotechnology and food issues. His latest book is Climate Justice and Community Renewal: Resistance and Grassroots Solutions (Routledge, 2020), an international collection on grassroots climate responses, coedited with Tamra Gilbertson. He has contributed to several recent international collections, including The Routledge Handbook on the Climate Change Movement (2014) and Handbook of Climate Justice (2019), Climate Justice and the Economy (2018), Social Ecology and Social Change (2015), Globalism and Localization: Emergent Solutions to Our Ecological and Social Crises (2019), and Pluriverse: The Post-Development Reader (2019).