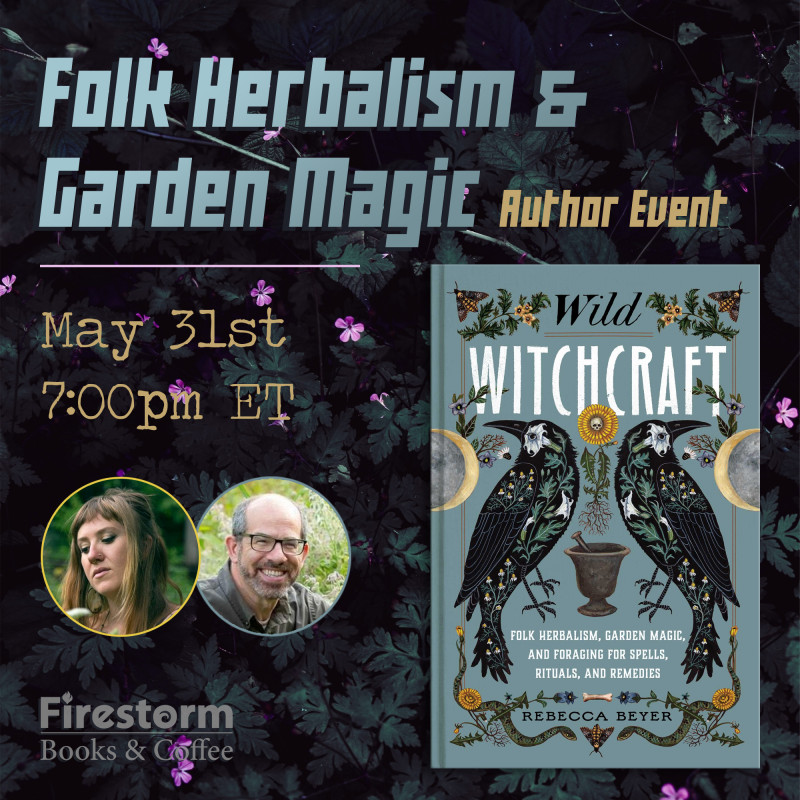 May 31st, 2022
Folk Herbalism & Garden Magic
Appalachian folk herbalist Rebecca Beyer is joined in conversation by Blue Ridge School of Herbal Medicine founder CoreyPine Shane to discuss the release of Beyer's new book, Wild Witchcraft: Folk Herbalism, Garden Magic, and Foraging for Spells, Rituals, and Remedies.
Wild Witchcraft welcomes us home to the natural world we all dwell in by exploring practical folk herbal and magical rites grounded in historical practices and a sustainable, green ethic.
Witchcraft is wild at heart, calling us into a relationship with the untamed world around us. Through the power of developing a relationship with plants, a witch—beginner or experienced—can practice their art more deeply and authentically by interacting with the beings that grow around us all. Bridging the gap between armchair witchcraft and the hedge witches of old, Wild Witchcraft empowers you to work directly with a wide variety of plants and trees safely and sustainably.
Rebecca Beyer is an Appalachian Folk herbalist, Traditional Witch, and wild food forager dedicated to living simply on the Earth. She has taught and presented at universities, conferences and gatherings over the last 10 years with the hope of showing people that living a seasonal life grounded in connection with the Old Ways is possible. Through growing, foraging, hunting, fishing and preserving her own food, she strives to create a life as close to her ancestors as possible while paying homage to the diverse peoples who created beloved Appalachia.
She makes her living tattooing, teaching foraging and Appalachian folk herbalism and craft classes at her school, Blood and Spicebush School of Old Craft. Rebecca currently spends her days dedicating herself to Appalachian folk arts, primitive skills, folk music and learning the names of all the beings she shares her bioregion with. www.bloodandspicebush.com
CoreyPine Shane RH (AHG), founder and Director of the Blue Ridge School of Herbal Medicine near Asheville, NC, has spent over 25 years helping clients and teaching people by artfully blending Chinese and Western herbal traditions with a focus on local plants. CoreyPine has taught across the United States and in Europe, at many national herb conferences, and is a Professional Member of the American Herbalists Guild.