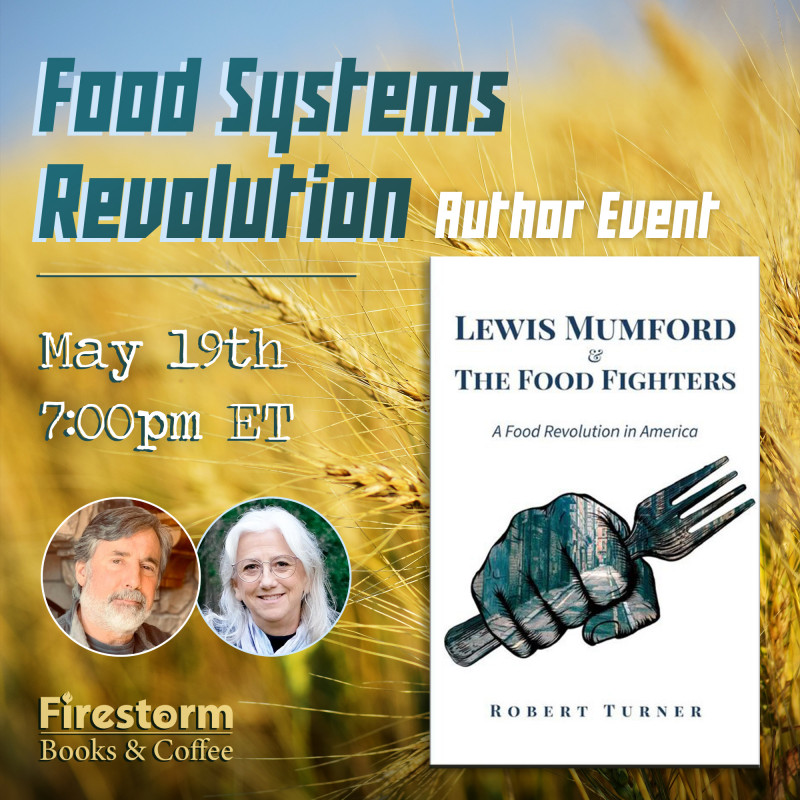 May 19th, 2022
Food Systems Revolution
Join for this virtual book launch event with activist and author Robert Turner in conversation with researcher and writer Laura Lengnick to celebrate the release of Turner's new book, Lewis Mumford and the Food Fighters.
In Lewis Mumford and the Food Fighters, Robert Turner defines a values-based and principle- centered approach to food that can restore our health and create a more sustainable and resilient food system for future generations. Turner shows us the character traits and values that are at the root of positive human behavior and sustainable living, and the result is a guidebook to finding peace and happiness, building lasting relationships, and regaining trust in our food system.
Robert Turner is a writer for regional food and lifestyle magazines, an organic farmer, and food politics
commentator. He's the author of Carrots Don't Grow on Trees: Building Sustainable and Resilient
Communities (Discovery Books, 2019). After a successful business career in diverse industries and global
supply chains, he now dedicates his time to helping people understand the global food web and the final
conquest of the earth—our soils. He serves on the board of directors for the nationally recognized Organic
Growers School and is an experienced speaker on regenerative agriculture.
Laura Lengnick has worked for decades to put sustainability values into action as a researcher, policymaker, educator, activist, and farmer. She is the founder of Cultivating Resilience, LLC, an Asheville-based consulting firm that works with organizations of all kinds to integrate resilience thinking into operations and strategic planning, and serves as the Director of Agriculture at the Glynwood Center for Regional Food and Farming. The second edition of Laura's award winning book, Resilient Agriculture, shares real world stories from the frontlines of climate change, resilience, and the future of food about the people working to cultivate new American foodways that are just, sustainable, regenerative, and resilient.