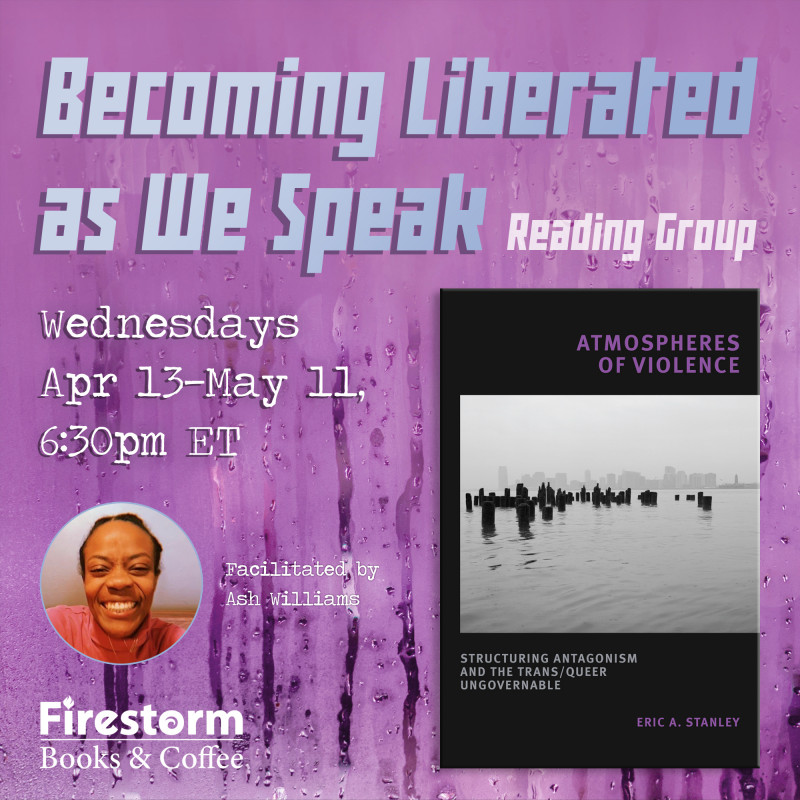 Apr 13th, 2022
Becoming Liberated As We Speak
Every Wednesday from April 2022 until May 2022
Please join us as we host Ash Williams for a reading group on Atmospheres of Violence: Structuring Antagonism and the Trans/Queer Ungovernable by Eric A. Stanley. During this five-week reading group, we will discuss the lasting impacts of North Carolina House Bill 2 and other anti-trans legislation, the recent violence against Black trans women in North Carolina, and what we can do to be ungovernable in the midst of the everyday atmospheres of violence faced by non-white trans people. We welcome community members, organizers, scholars, and trans people from near and far.
Eric A. Stanley's Atmospheres of Violence is a study of the forms of violence levied against trans/queer and gender nonconforming people in the United States. While the recent past, roughly from the Stonewall uprisings of 1969 to the present, is usually narrated as a time of LGBT equality, with the repeal of Don't Ask Don't Tell, the expansion of hate crimes legislation, and marriage equality, during this same period there has been an escalation in murders of trans women, particularly those who are Black and Brown. It is within this contradiction, which Eric A. Stanley argues is a structuring antagonism, that Atmospheres of Violence dwells. Rather than suggesting that such violence is evidence of individual phobias, Stanley asserts that the consistency of such harms points to a much larger structure of our social world.
Ash Williams is an anti-carceral and reproductive justice organizer. He received his BA in Philosophy from UNC Charlotte in 2014 and his MA in Ethics and Applied Philosophy from UNC Charlotte in 2015. You can follow Ash on Twitter @Ash_Bash23.
Content Warning: This event may include discussion of sexual assault, abuse, self-harm and suicide, violence and death or dying.