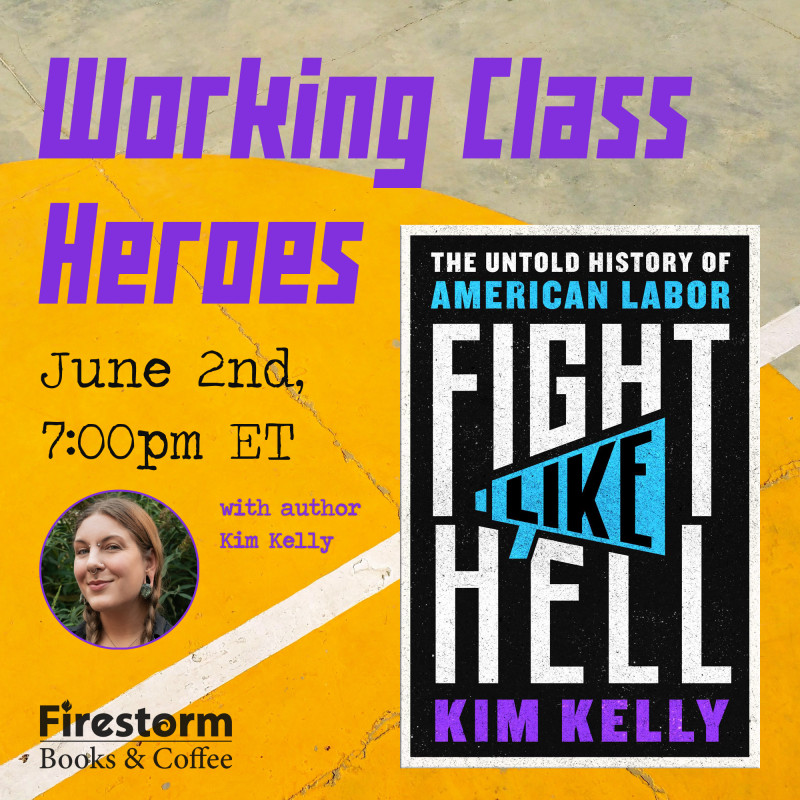 Jun 2nd, 2022
Working Class Heroes
Independent journalist Kim Kelly joins us for this virtual discussion on their new book, Fight Like Hell: The Untold History of American Labor.
The history of organized labor in America all too often conjures a bygone era and generic images of slick-haired strongmen and hard-hatted construction workers. But in fact, one of America's first unions was founded by Black Mississippi freedwomen in the 1860s. Jewish immigrant garment workers were instrumental in getting worker protections incorporated into FDR's New Deal. Latino- and Asian-American farmworkers in California were 1970s pioneers in the fight for racial inclusion and a fair wage. And today, Amazon warehouse employees struggling to unionize in Bessemer, Alabama are 85% Black.
As America grapples with the unfinished business of emancipation, the New Deal, and Johnson's Great Society, Fight Like Hell offers a transportive look at the heroes who've sacrificed to make good on the nation's promises. Kim Kelly's publishing debut is both an inspiring read and a vital contribution to American history.
Kim Kelly is an independent journalist, author, and organizer. She has been a regular labor columnist for Teen Vogue since 2018, and her writing on labor, class, politics, and culture has appeared in The New Republic, The Washington Post, The New York Times, The Baffler, The Nation, the Columbia Journalism Review, and Esquire, among many others. Kelly has also worked as a video correspondent for More Perfect Union, The Real News Network, and Means TV. Previously, she was the heavy metal editor at "Noisey," VICE's music vertical, and was an original member of the VICE Union. A third-generation union member, she is a member of the Industrial Workers of the World's Freelance Journalists Union as well as a member and elected councilperson for the Writers Guild of America, East (WGAE). She was born in the heart of the South Jersey Pine Barrens, and currently lives in Philadelphia with a hard-workin' man, a couple of taxidermied bears, and way too many books.
Content Warning: This event may include discussion of violence.