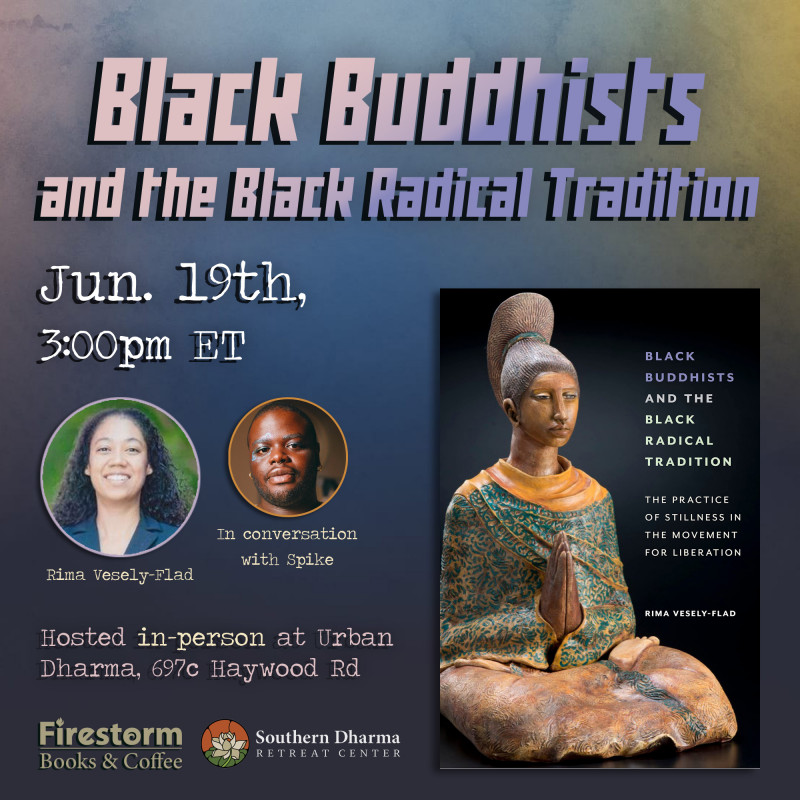 Jun 19th, 2022
Black Buddhists and the Black Radical Tradition
This is a hybrid event. Attend in-person at
Urban Dharma
(697c Haywood Road) or request a link during registration to attend on Zoom.
To celebrate the release of Black Buddhists and the Black Radical Tradition, our co-op is teaming up with Southern Dharma Retreat Center to host author and scholar Rima Vesely-Flad in conversation with local Black trans storyteller Spike.
In Black Buddhists and the Black Radical Tradition, Rima Vesely-Flad examines the distinctive features of Black-identifying Buddhist practitioners, arguing that Black Buddhists interpret Buddhist teachings in ways that are congruent with Black radical thought. Indeed, the volume makes the case that given their experiences with racism—both in the larger society and also within largely white-oriented Buddhist organizations—Black cultural frameworks are necessary for illuminating the Buddha's wisdom.
The book includes discussions of the Black Power movement, the Black feminist movement, and the Black prophetic tradition. It also offers a nuanced discussion of how the Black body, which has historically been reviled, is claimed as a vehicle for liberation. In so doing, the book explores how the experiences of non-binary, gender non-conforming, and transgender practitioners of African descent are validated within the tradition. The book also uplifts the voices of lesbian, gay, bisexual, and queer Black Buddhists. This unique volume shows the importance of Black Buddhist teachers' insights into Buddhist wisdom, and how they align Buddhism with Black radical teachings, helping to pull Buddhism away from dominant white cultural norms.