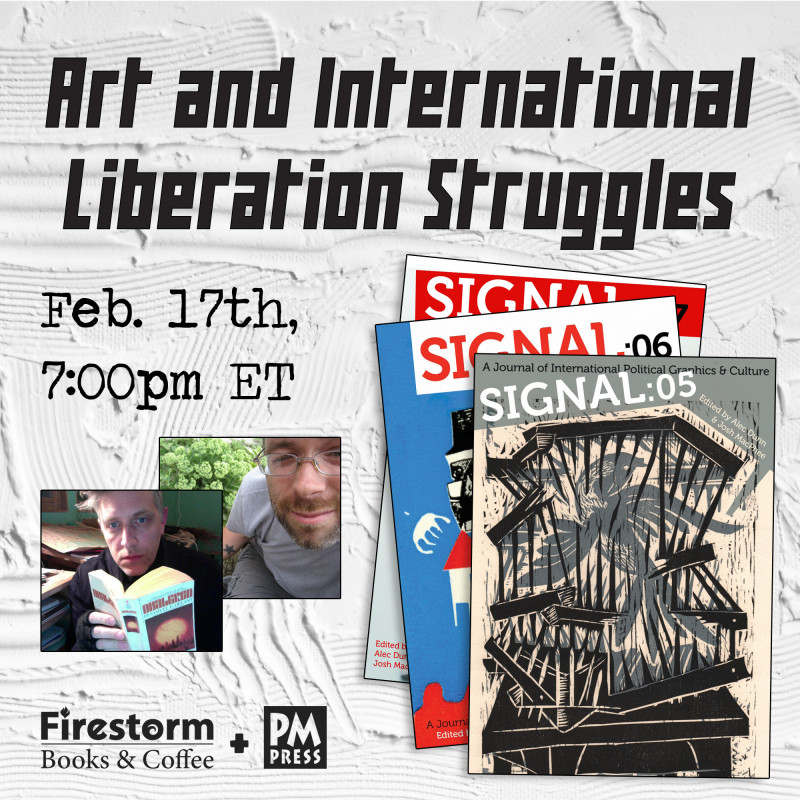 Feb 17th, 2022
Art and International Liberation Struggles
Brooklyn-based street artist Josh MacPhee and Alec "Icky" Dunn, an illustrator and printer in Portland, discuss their work together on Signal: A Journal of International Political Graphics & Culture as part of this virtual conversation on the art projects and cultural movements of international resistance struggles.
Josh MacPhee is a Brooklyn-based street artist, designer, curator, and activist. A street stenciler and poster-maker for over a decade, he also runs a radical art distribution project, justseeds.org, as a way to develop and distribute T-shirts, posters, and stickers with revolutionary content. He organizes the Celebrate People's History Poster Project, an ongoing poster series in which different artists create posters to document and remember moments in radical history.
Alec "Icky" Dunn is an illustrator, writer, and printer living in Portland, OR. He has designed book and record covers, political graphics, punk fliers and is a member of the Justseeds Artists Cooperative. Alec is a nurse who works in critical care, harm reduction, and street medicine. He co-authored An Introductory Guide to Assessing and Understanding Common Wounds with People Who Inject Drugs (with Tim Gauthier) in 2020.