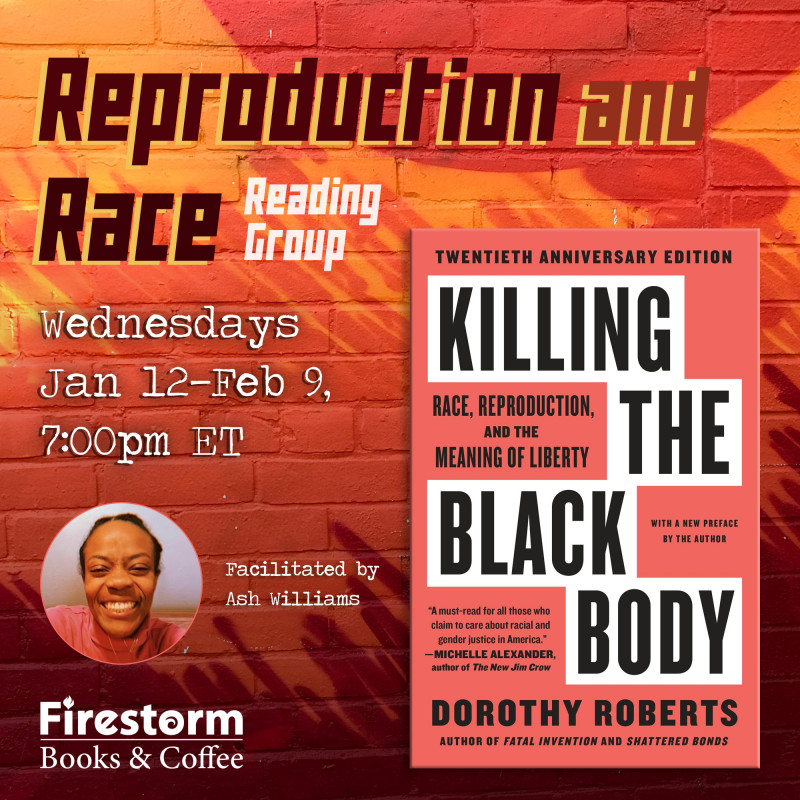 Jan 26th, 2022
Reproduction and Race Reading Group
Every first, second, third and fourth Wednesday from January 2022 until February 2022
A five week series exploring Dorothy Roberts' Killing the Black Body, with supplemental readings from Bettina Judd's Patient. Hosted by local community organizer Ash Williams (he/him), participants will consider how the text relates to recent bans on abortion access, racialized and gendered state violence, and histories of medicalized oppression against marginalized bodies. Participants are encouraged to bring their own experiences and expertise into the virtual learning space as well as other forms of contemporary media that can help supplement the primary texts.
Dorothy Roberts' Killing the Black Body is a no-holds-barred response to the liberal and conservative retreat from an assertive, activist, and socially transformative civil rights agenda of recent years--using a black feminist lens and the issue of the impact of recent legislation, social policy, and welfare "reform" on black women's--especially poor black women's--control over their bodies' autonomy and their freedom to bear and raise children with respect and dignity in a society whose white mainstream is determined to demonize, even criminalize their lives. It gives its readers a cogent legal and historical argument for a radically new , and socially transformative, definition of "liberty" and "equality" for the American polity from a black feminist perspective.
Bettina Judd's Patient. is a brilliant meditation on race, gender, and science and a thrilling anthem to black women's self-knowledge.
Ash Williams is an anti-carceral and reproductive justice organizer. He received his BA in Philosophy from UNC Charlotte in 2014 and his MA in Ethics and Applied Philosophy from UNC Charlotte in 2015. You can follow Ash on Twitter @Ash_Bash23.
Reading Schedule:
Week One
Introductions
Week Two
Killing the Black Body: Chapters 1 & 2
Patient: Pathology.
Week Three
Killing the Black Body: Chapters 3 & 4
Patient: Use.
Week Four
Killing the Black Body: Chapters 5 & 6
Patient: Treason.
Week Five
Killing the Black Body: Chapter 7
Patient: Acknowledgements-Endnotes
Content Warning: This event may include discussion of sexual assault, abuse, violence and miscarriages/abortion.