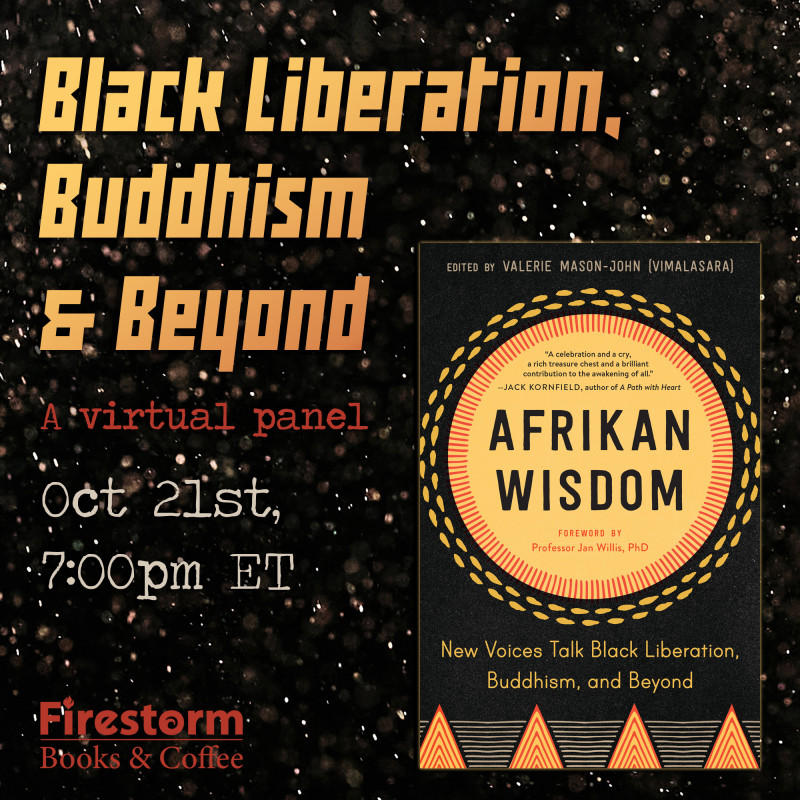 Oct 21st, 2021
Black Liberation, Buddhism & Beyond
In this virtual panel discussion, editor Valerie Mason-John presents the new anthology Afrikan Wisdom in conversation with three of its contributors, Sensei Alex Kakuyo, Arisika Razak, and Karla Jackson-Brewer.
Afrikan Wisdom: New Voices Talk Black Liberation, Buddhism, and Beyond is a spiritual, political, and interdisciplinary collection of wisdom stories from today's Black liberation thought leaders and teachers. It includes thirty essays written by an eclectic group of inspirational authors who reflect on the unique experience of being Black in the world today.
Valerie Mason-John is a public speaker and master trainer in the fields of conflict transformation, leadership, and mindfulness. They are the award-winning author/editor of nine books. Their debut novel, Borrowed Body, won the 2006 Mind Book of the Year Award. They co-edited the award-winning anthology The Great Black North: Contemporary African Canadian Poetry and co-produced blackhalifax.com. The co-authored Eight Step Recovery: Using The Buddha's Teaching to Overcome Addiction, which was the winner of the Best USA Book Award 2014 and Best International Book Award 2015 in the self-motivational and self-help category. Their most recent book, published in 2020, I Am Still Your Negro: An Homage to James Baldwin, has won critical acclaim.
Sensei Alex Kakuyo is a Buddhist teacher and breathwork facilitator. A former Marine, he served in Iraq and Afghanistan before finding the Dharma through a series of happy accidents. Alex is the author of Perfectly Ordinary: Buddhist Teachings for Everyday Life.
Arisika Razak, MPH, Professor Emerita and former chair of the Women's Spirituality Program at the California Institute of Integral Studies, is a core teacher at the East Bay Meditation Center in Oakland California and a graduate of Spirit Rock's DPP program. Her teachings incorporate diverse spiritual traditions, multicultural feminisms, and contemporary diversity theory. For over twenty years, Arisika served as an inner-city midwife, providing birthing care to women from over 70 countries. She has facilitated spiritual, healing and empowerment workshops for over 30 years, and performed nationally and internationally as a spiritual dancer. Arisika is a regular contributor to books and journals, and presents at numerous conferences on the subjects of womanism, diversity, women's health and healing and embodied spiritual traditions. Her film credits include Fire Eyes (the first full length feature film by an African woman on female genital cutting), and Who Lives, Who Dies (on health care for the indigent).
Karla Jackson-Brewer, MS has been a Vajrayana practitioner and a student of Lama Tsultrim Allione for 32 years. She is a Tara Mandala Authorized Teacher who has been practicing Chöd for 31 years. In October 2012, she received the Chöd Empowerment from His Holiness the 17th Karmapa, Orgyen Trinley Dorje.