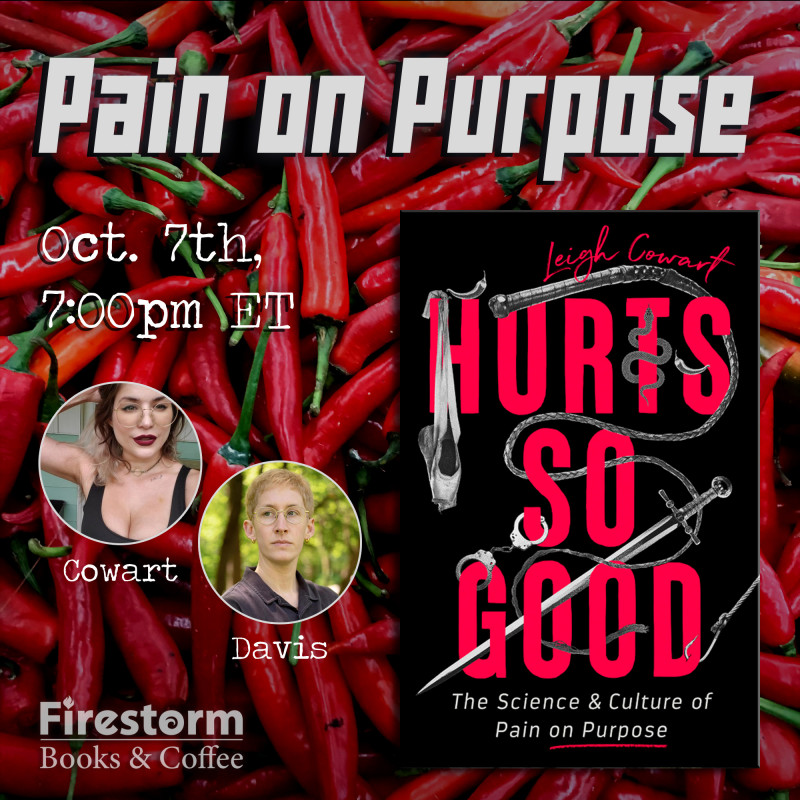 Oct 7th, 2021
Pain On Purpose
Asheville author Leigh Cowart shares their new book Hurts So Good, an exploration of why people all over the world love to engage in pain on purpose—from dominatrices, religious ascetics, and ultramarathoners to ballerinas, icy ocean bathers, and sideshow performers. Leigh will be join for this virtual conversation by Oakland-based writer Davey Davis.
Why do people engage in masochism? What are the benefits: social, psychological, physiological, and otherwise? What are the costs? What does masochism have to say about the human experience? Cowart unveils how our minds and bodies are engineered to find meaning and relief in pain-a quirk in our programming that drives discipline and innovation even as it threatens to swallow us whole.
Leigh Cowart is a researcher and journalist whose work has appeared in the Washington Post, New York Magazine, Buzzfeed News, Hazlitt, Longreads, Vice, and other outlets. Before becoming a journalist, Cowart was immersed in academia, doing research on subjects like sexual dimorphism in leaf-nosed bats, and resource allocation in flowers. They live in Asheville, NC.
Davey Davis is a Brooklyn-based critic and novelist. Their second novel, X, will be available through Catapult next year. They write a weekly newsletter about art, culture, sexuality, and popular queer discourse at itsdavid.substack.com. They tweet at @k8bushofficial.