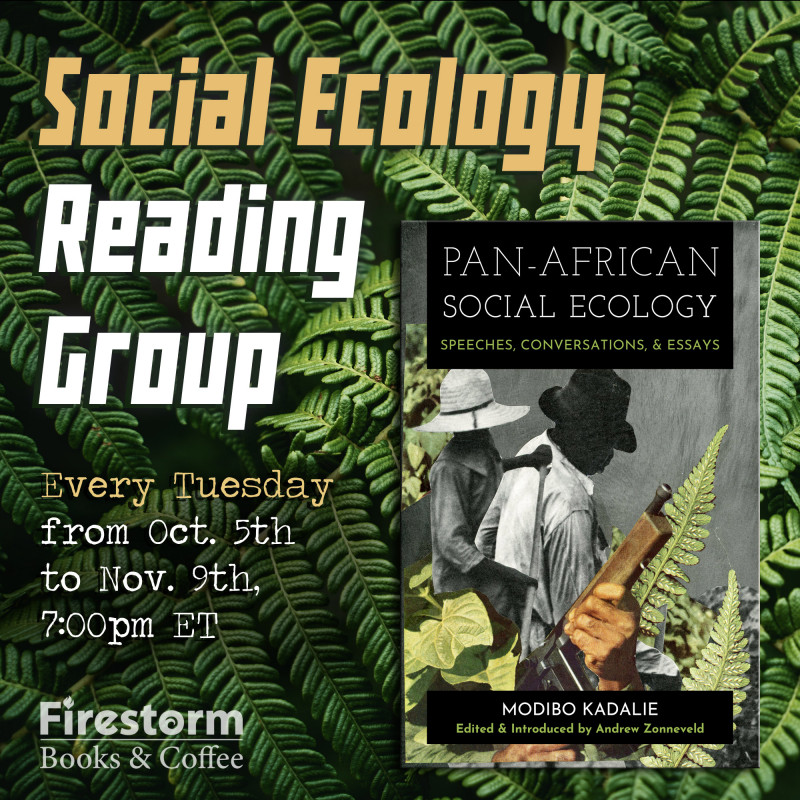 Oct 26th, 2021
Social Ecology Reading Group
Every Tuesday from October 2021 until November 2021
A six week, online event series to read and discuss the work of social ecologist and lifelong revolutionary organizer Modibo Kadalie. Participants will explore Kadalie's 2019 book Pan-African Social Ecology: Speeches, Conversations, and Essays, a concise, radical and iconoclastic collection connecting Black liberation struggles to ecological activism in the era of climate change.
Week One – October 5th

Introductions, Agenda, Discussion Agreements

Introduction and Biographical Sketch of Modibo Kadalie by Andrew Zonneveld (42 pages)
Week Two – October 12th

Chapter One: From the Ogeechee Rebellion to the ATL Sanitation Strikes and Beyond (11 pages)

Chapter Two: The land of the Freaks and Home of the Slaves (4 pages)

Chapter Three: Find your Allies in the Street! (8 pages)
Week Three – October 19th

Chapter Four: Black Resistance and the State (6 pages)

Chapter Five: Blackness, Anarchism, and Social Ecology (11 pages)
Week Four – October 26th

Chapter Six: History's corners and Peripheries: Pan-African Social Ecology and Intimate Direct Democracy (33 pages)
Week Five – November 2nd

Chapter Seven: The foul Stench of the State: Twenty-First Century Struggles for Direct Democracy and the Ecological Future (18 pages)

Appendix: Women's Leadership of a Struggle for Ecological Justice: The Case for Vieques (11 pages)
Week Six – November 9th

Community Dialogue and Wrap-Up

For the newly politicized, the book offers a useful reflection on the pan-Africanist movements of Kadalie's day, highlighting its successes, blunders and legacies, while introducing concepts of anti-statism, anti-capitalism and community-building.

For the experienced organizer, the real beauty of the book is in Kadalie's practice of auto-ethnography as a movement participant. As organizers, striking the imperative balance between the individual and the collective, no less retrospectively, is a monumental task that Kadalie has achieved here with grace, warmth and wisdom.