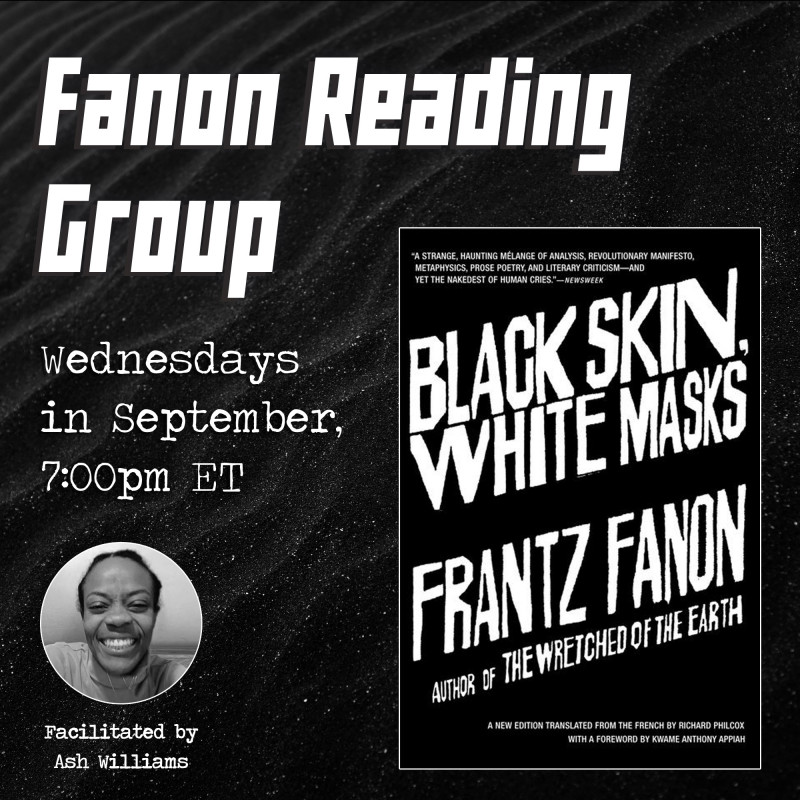 Wednesday, Sep 29th, 7:00pm – 8:30pm ET
Black Skin, White Masks Reading Group
Every second, third, fourth and fifth Wednesday in September 2021
A four week series exploring Frantz Fanon's Black Skin, White Masks. Hosted by local community organizer Ash Williams (he/him), participants can expect to consider the lasting impacts that Fanon's Black Skin White Masks has had on people who care about race and racism. We will also critically reflect on and extrapolate Fanon's contributions to critical race theory.
Schedule
Session One - Container Building, Forward, and Introduction
Session Two - Chapters 1, 2, 3
Session Three - Chapters 4, 5
Session Four - Chapters 6, 7, 8
Black Skin, White Masks is a 1952 book by Frantz Fanon, a psychiatrist and intellectual from Martinique. The book is written in the style of auto-theory, in which Fanon shares his own experiences while presenting a historical critique of the effects of racism and dehumanization, inherent in situations of colonial domination, on the human psyche. Fanon's reflections on anti-Black racism and how it forms, then deforms, the subjectivity of white and Black people both, is crucial for understanding the multiple levels of colonial subjugation and the terms of its overcoming.
Ash Williams is an anti-carceral and reproductive justice organizer. He received his BA in Philosophy from UNC Charlotte in 2014 and his MA in Ethics and Applied Philosophy from UNC Charlotte in 2015. You can follow Ash on Twitter @Ash_Bash23.