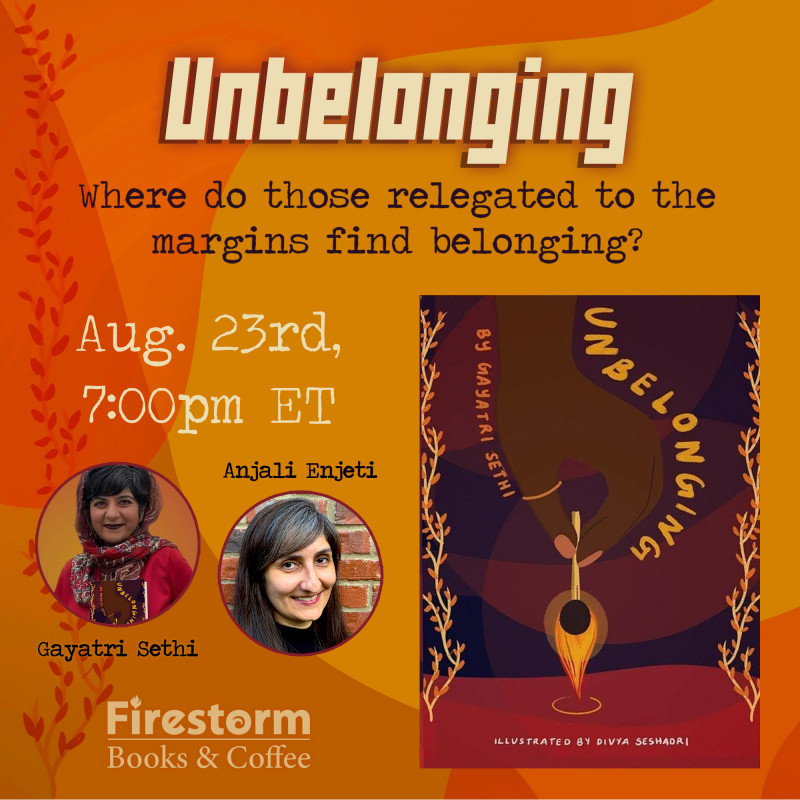 Monday, Aug 23rd, 7:00pm – 8:30pm ET
"Unbelonging" Book Release
Join writer and educator Gayatri Sethi for a virtual conversation with author Anjali Enjeti about her new book from Mango and Marigold Press.
Enjeti describes Sethi's Unbelonging as "[a] sweeping ode to her ancestors and the homelands intimately tied to her identity... a mesmerizing debut about truth and naming, colonization and kinship, and a poetic meditation on what it means to be human."
Gayatri Sethi is an educator, writer, and independent consultant based in Atlanta. Born in Tanzania and raised in Botswana, she is of South Asian Punjabi descent, multilingual, and polycultural. She reflects on these lifelong experiences of identity, immigration, and belonging in her debut book titled Unbelonging. She teaches and writes about social justice, global studies, and comparative education. When she is not homeschooling or recommending readings as Desi Book Aunty, she travels the globe with her students and family.
Anjali Enjeti is a former attorney and award-winning journalist based near Atlanta. She is the author of the essay collection Southbound: Essays on Identity, Inheritance, and Social Change, and the novel, The Parted Earth. Her writing about politics, social justice, and books has appeared in Harper's BAZAAR, Mic, the Atlanta Journal-Constitution, Washington Post, Al Jazeera, The Nation, and elsewhere. She is the co-founder of They See Blue Georgia, an organization for South Asian Democrats, and teaches in the MFA program at Reinhardt University.