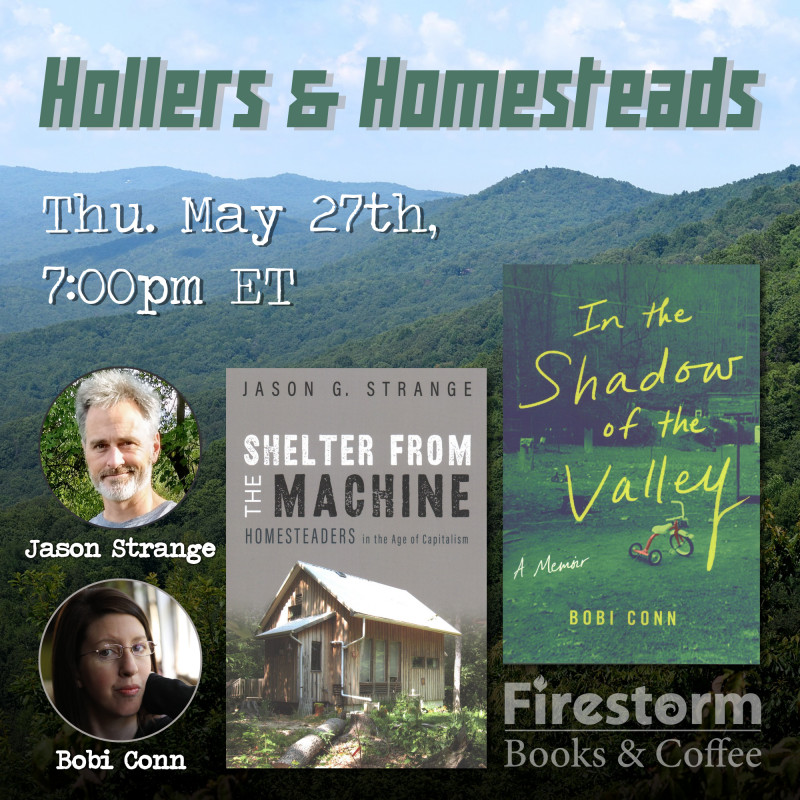 Thursday, May 27th, 7:00pm – 8:30pm ET
Hollers & Homesteads: Exploring The Appalachian Experience
Join for a discussion between Jason Strange, author of Shelter From The Machine, and Bobi Conn, author of In the Shadow Of The Valley, as they discuss the intersections of their work and the Appalachian experience.
Jason Strange grew up in eastern Kentucky and northern California—places with rich histories of homesteading—and not always with modern conveniences such as indoor plumbing. He has traveled in four continents and forty-nine states and held a variety of jobs, working as a migrant agricultural laborer, in restaurants, as a carpenter, in a car-parts factory, and as a production potter. He brings this experience to his work as a scholar and professor of Peace and Social Justice at Berea College, a liberal arts college that only admits low-income students and doesn't charge tuition.
Bobi Conn was born in Morehead, Kentucky, and raised in a nearby holler, where she developed a deep connection with the land and her Appalachian roots. She obtained her bachelor's degree at Berea College, the first school in the American South to integrate racially and to teach men and women in the same classrooms. After struggling as a single mother, she worked multiple part-time jobs at once to support her son and to attend graduate school, where she earned a master's degree in English with an emphasis in creative writing. In addition to writing, Bobi loves playing pool, cooking, being in the woods, attempting to grow a garden, and spending time with her incredible children.
Content Warning: This event may include discussion of abuse and violence.