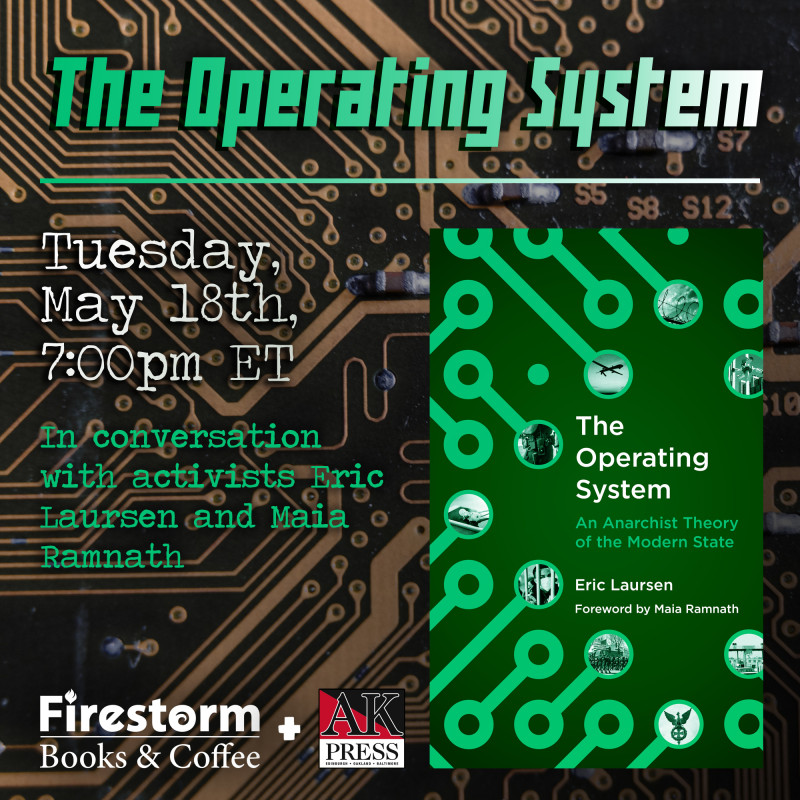 Tuesday, May 18th, 7:00pm – 8:30pm ET
Anarchism and The Modern State
To mark the publication of The Operating System, an accessible new interrogation of state governance, we'll host author Eric Laursen in conversation with historian Maia Ramnath (Decolonizing Anarchism).
Anyone concerned with entrenched power, income inequality, lack of digital privacy, climate change, the amateurish response to COVID-19, or military-style policing will find eye-opening insights into how states operate and build more power for themselves—at our expense. The state won't solve our most pressing problems, so why do we obey? It's time to think outside the state.
We're excited to host this event in partnership with our friends at AK Press for #RadicalMay!
Eric Laursen is an independent journalist, historian, and activist. He is the author of The People's Pension and The Duty to Stand Aside. His work has appeared in a wide variety of publications, including In These Times, The Nation, The Village Voice, Counterpunch, The Arkansas Review, and Z Magazine. He lives in Buckland, Massachusetts.
Maia Ramnath is a historian and author of Decolonizing Anarchism and Art for Life: Conversations with the Progressive Writers Movement.