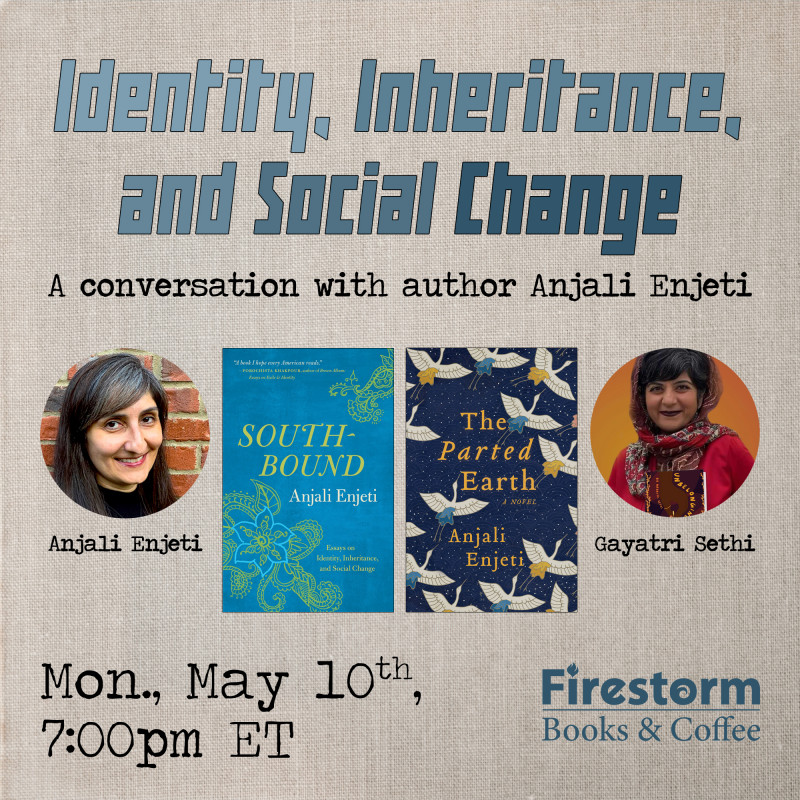 May 10th, 2021
Identity, Inheritance, and Social Change: A Conversation With Anjali Enjeti
Join Gayatri Sethi in conversation with author Anjali Enjeti about her new essay collection, Southbound: Identity, Inheritance, and Social Change, and novel, The Parted Earth.
A move at age ten from a Detroit suburb to Chattanooga in 1984 thrusts Anjali Enjeti into what feels like a new world replete with Confederate flags, Bible verses, and whiteness. It is here that she learns how to get her bearings as a mixed-race brown girl in the Deep South and begins to understand how identity can inspire, inform, and shape a commitment to activism.
The twenty essays of her debut collection, Southbound, tackle white feminism at a national feminist organization, the early years of the AIDS epidemic in the South, voter suppression, gun violence and the gun sense movement, the whitewashing of southern literature, the 1982 racialized killing of Vincent Chin, social media's role in political accountability, evangelical Christianity's marriage to extremism, and the rise of nationalism worldwide.
Spanning more than half a century and cities from New Delhi to Atlanta, Enjeti's debut novel The Parted Earth is a heartfelt and human portrait of the long shadow of the Partition of India on the lives of three generations of women.
Anjali Enjeti is a former attorney and award-winning journalist based near Atlanta. She is the author of the essay collection Southbound: Essays on Identity, Inheritance, and Social Change, and the novel, The Parted Earth. Her writing about politics, social justice, and books has appeared in Harper's BAZAAR, Mic, the Atlanta Journal-Constitution, Washington Post, Al Jazeera, The Nation, and elsewhere. She is the co-founder of They See Blue Georgia, an organization for South Asian Democrats, and teaches in the MFA program at Reinhardt University.
Gayatri Sethi is an educator, writer, and independent consultant based in Atlanta. Born in Tanzania and raised in Botswana, she is of South Asian Punjabi descent, multilingual, and polycultural. She reflects on these lifelong experiences of identity, immigration, and belonging in her debut book titled Unbelonging. She teaches and writes about social justice, global studies, and comparative education. When she is not homeschooling or recommending readings as Desi Book Aunty, she travels the globe with her students and family.