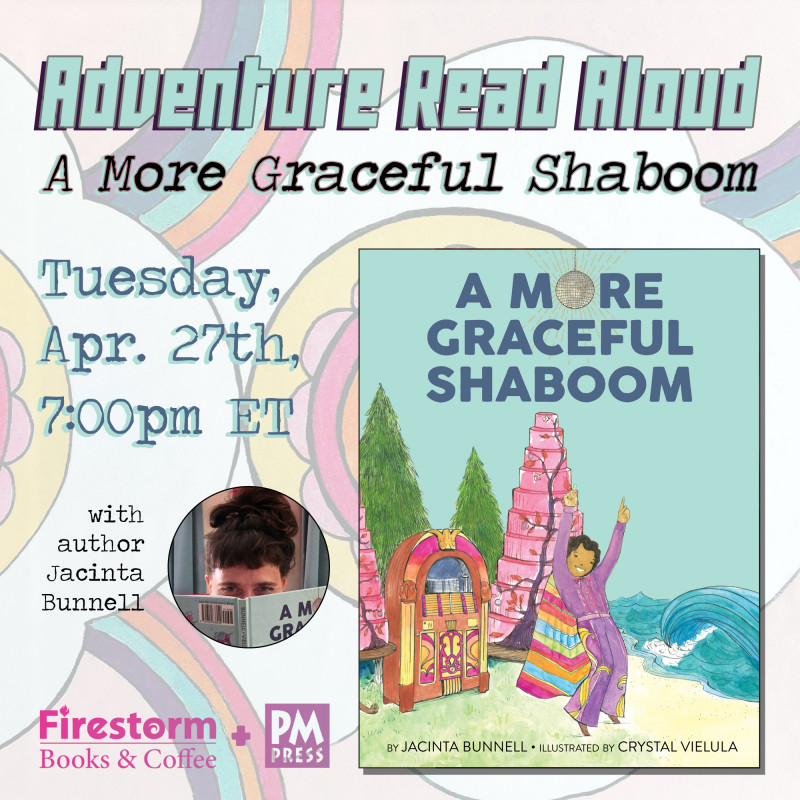 Apr 27th, 2021
Adventure Read Aloud: A More Graceful Shaboom
Join Jacinta Bunnell as she teams up with Ami Joelle Glazer to bring you an adventure read aloud story about a spunky, non-binary protagonist named Harmon Jitney who finds joy in a magical purse, leading to an extraordinary, previously undiscovered, universe.
This book features LGBTQ characters seamlessly woven into a delightful, imaginative story, without being an overt "lesson book" about gender and sexuality. A More Graceful Shaboom is one of the first children's books ever written to feature a non-binary character who uses they and them pronouns. Follow Harmon Jitney and their two moms as they unlock the key to their own inner joy and understanding of community.
Jacinta Bunnell is the author of five coloring books with PM Press/Reach and Teach, including Sometimes the Spoon Runs Away with Another Spoon, Girls Are Not Chicks, and The Big Gay Alphabet Coloring Book. She is a visual artist, writer, and educator living in the Hudson Valley, NY. For close to two decades, Jacinta has been making media for young readers that challenges gender stereotypes. This is her first picture book. For more on Jacinta's previous works, visit queerbookcommittee.
Ami Joelle Glazer(they/them) is a writer and filmmaker from Fountain Valley, CA living in Philadelphia with their rabbit Rhubarb.
The organizer of this event marked it kid-friendly. 😛