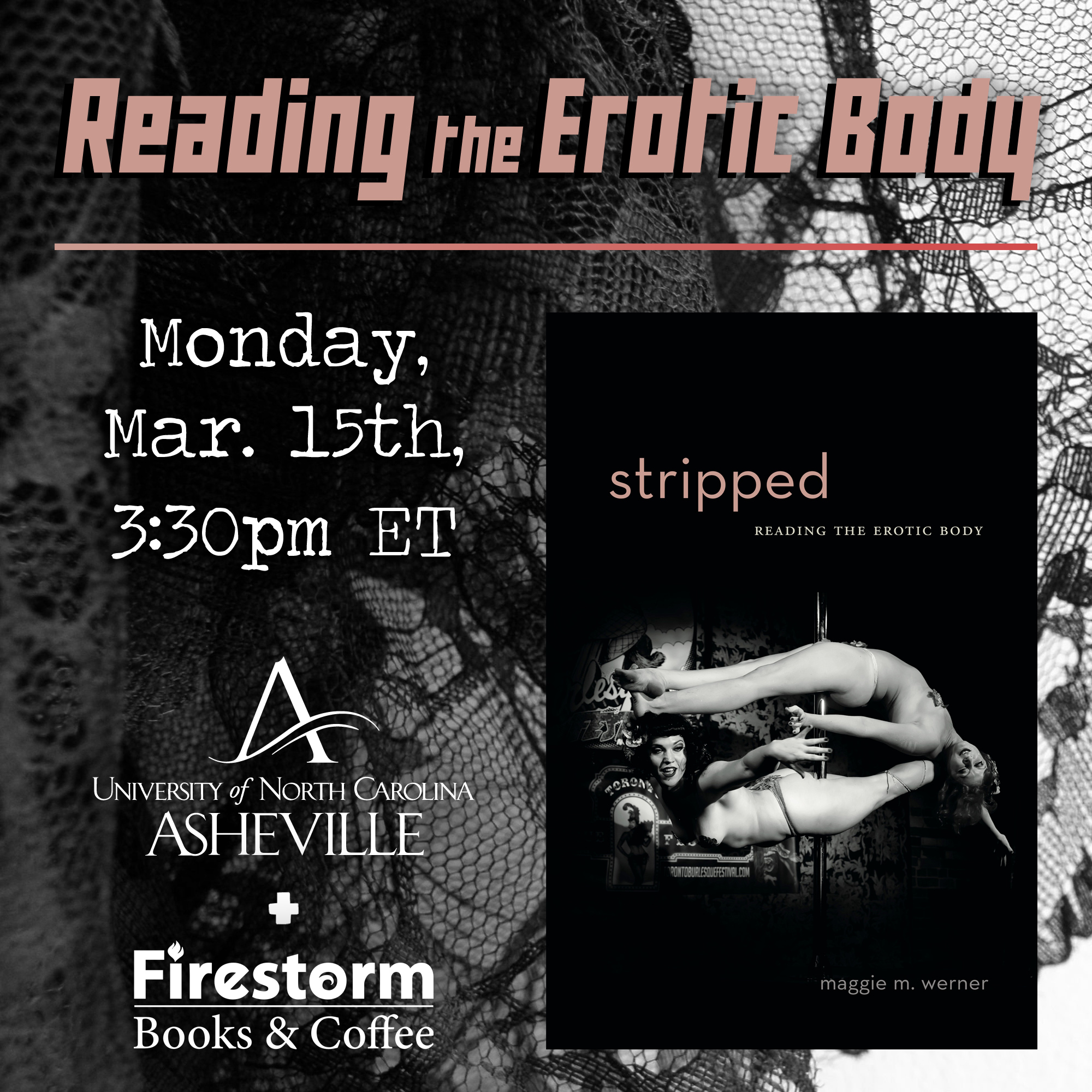 Monday, Mar 15th, 3:30pm – 5:00pm ET
Stripped: Reading the Erotic Body
Join Dr. Maggie M. Werner, author of Stripped: Reading the Erotic Body, in conversation with Dr. Amanda Wray and students at UNC Asheville.
Stripped examines the ways in which erotic bodies communicate in performance and as cultural figures. Focusing on symbols independent of language, Maggie M. Werner explores the signs and signals of erotic dance, audience responses to these codes, and how this exchange creates embodied rhetoric.
Dr. Maggie M. Werner—a sex worker rights activist and Rhetoric professor—will open the event with a brief summary of Stripped and will conclude with sex worker resources, including sharing information about local and national rights activist groups. Audience participation is encouraged, and the event will be moderated by UNCA Gender and Sexuality students.
Informed by her own ethnographic research conducted in strip clubs and theaters, Werner analyzes the movement, dress, and cosmetic choices of topless dancers and neo-burlesque performers. Drawing on critical methods of analysis, she develops approaches for interpreting embodied erotic rhetoric and the marginal cultural practices that construct women's public erotic bodies. She follows these bodies out into the streets--into the protest spaces where sex workers and anti-rape activists challenge discourses about morality and victimhood and struggle to remake their own identities. Throughout, Werner showcases the voices of these performers and in the analyses shares her experiences as an audience member, interviewer, and paying customer. The result is a uniquely personal and erudite study that advances conversations about women's agency and erotic performance, moving beyond the binary that views the erotic body as either oppressed or empowered.