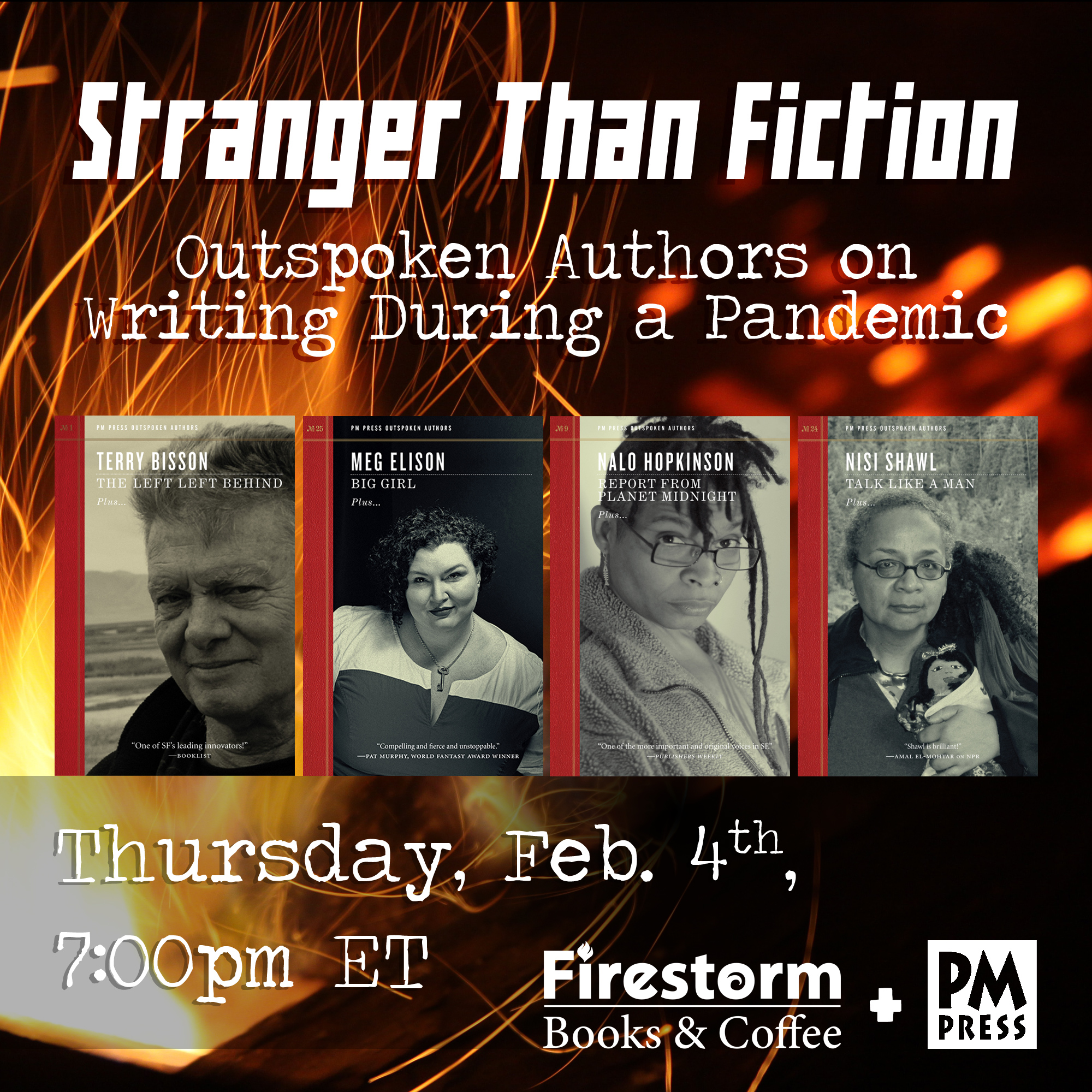 Feb 4th, 2021
Stranger Than Fiction: Outspoken Authors on Writing During a Pandemic
A spectacular author panel, featuring Terry Bisson (The Left Left Behind), Meg Elison (Big Girl), Nalo Hopkinson (Report from Planet Midnight), and Nisi Shawl (Talk Like a Man).
The Outspoken Authors series from PM Press showcases fiction writers most provocative and politically challenging stories in the form of interviews, short stories and novella, essays, bios, and bibliographies. This panel will feature four Outspoken Authors in conversation on writing radical fiction during a global pandemic and its ability to help imagine new pathways of possibility.
Terry Bisson, who was for many years a Kentuckian living in New York City, is now a New Yorker living in California. In addition to science fiction, he has written bios of Mumia Abu-Jamal and Nat Turner. He is also the host of a popular San Francisco reading series (SFinSF) and the Editor of PM's Outspoken Authors pocketbook series.
Meg Elison is a San Francisco Bay Area author. Her debut novel, The Book of the Unnamed Midwife won the 2014 Philip K. Dick Award and was a Tiptree longlist mention that same year. It was reissued in 2016 and was on the Best of the Year lists from Publishers Weekly, Kirkus, PBS, and more. Her second novel was also a finalist for the Philip K. Dick Award. Elison was the spring 2019 Clayton B. Ofstad endowed distinguished writer-in-residence at Truman State University, and is a coproducer of the monthly reading series Cliterary Salon.
Nalo Hopkinson, born in Jamaica and now living in California, is a superstar of modern fantasy. Her award winning novels include Brown Girl in the Ring (1998), Midnight Robber (2000), The Salt Roads (2003), and The New Moons Arms (2007). Her short story collection, Skin Folk (2001), was the winner of the World Fantasy Award and the Sunburst Award. She has edited and coedited a number of fantasy anthologies and taught at the Clarion workshops and other venues. She is a founding member and currently on the advisory committee of the Carl Brandon Society, which exists to further the conversation on race and ethnicity in SF and fantasy.
Nisi Shawl is an African American writer, editor, and journalist. They are best known for their science fiction and fantasy stories and novels dealing with race, gender, and sexual orientation. They live in Seattle, where they also write on political and cultural matters for the Seattle Times. Even before Shawl's steampunk-flavored alternate history of the "Belgian" Congo, Everfair, took the sci-fi world by storm, their short stories had already established them as a cutting-edge black writer whose politically charged fiction is in the grand feminist tradition of Ursula Le Guin, Octavia Butler, and Joanna Russ.