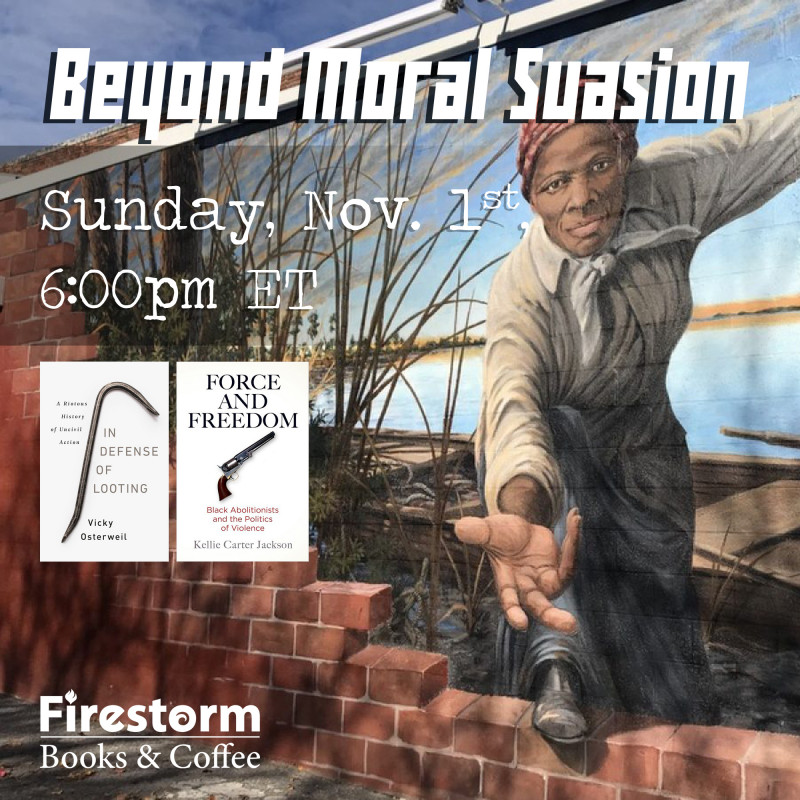 Nov 1st, 2020
Beyond Moral Suasion
An Author Discussion
In response to the murder of George Floyd, the United States has been rocked by mass unrest including the largest protests in our country's history. These protests featured riots, looting, and street skirmishes, prompting public debates about racism, nonviolence, leadership, and social change. At the same time, insurrectionary momentum thrust radical ideas, including police abolition, into the mainstream, and led many to consider the historical relevance of abolitionism, civil war, and the struggle for liberation.
Join us for a conversation between authors—including Vicky Osterweil (In Defense of Looting), Kellie Carter Jackson (Force and Freedom), and Saralee Stafford (Dixie Be Damned)—whose work interrogates the history of social change in the United States.
Kellie Carter Jackson is the Knafel Assistant Professor of the Humanities at Wellesley College. She is coeditor of Reconsidering Roots: Race, Politics, and Memory and author of Force and Freedom: Black Abolitionists and the Politics of Violence.
Vicky Osterweil is a writer, editor, and agitator and a regular contributor to the New Inquiry. She is the author of In Defense of Looting: A Riotous History of Uncivil Action and her writing has also appeared in the Baffler, the Nation, the Rumpus, Real Life, and Al Jazeera America.
Saralee Stafford was born in the Piedmont of North Carolina. She is the co-author of Dixie Be Damned: 300 Years of Insurrection in the American South. She currently works in the service industry while studying and teaching gender-related health in Durham, NC.
Harriet Tubman mural by Michael Rosato at the Harriet Tubman Museum & Educational Center (Cambridge, MD).
Content Warning: This event may include discussion of violence.