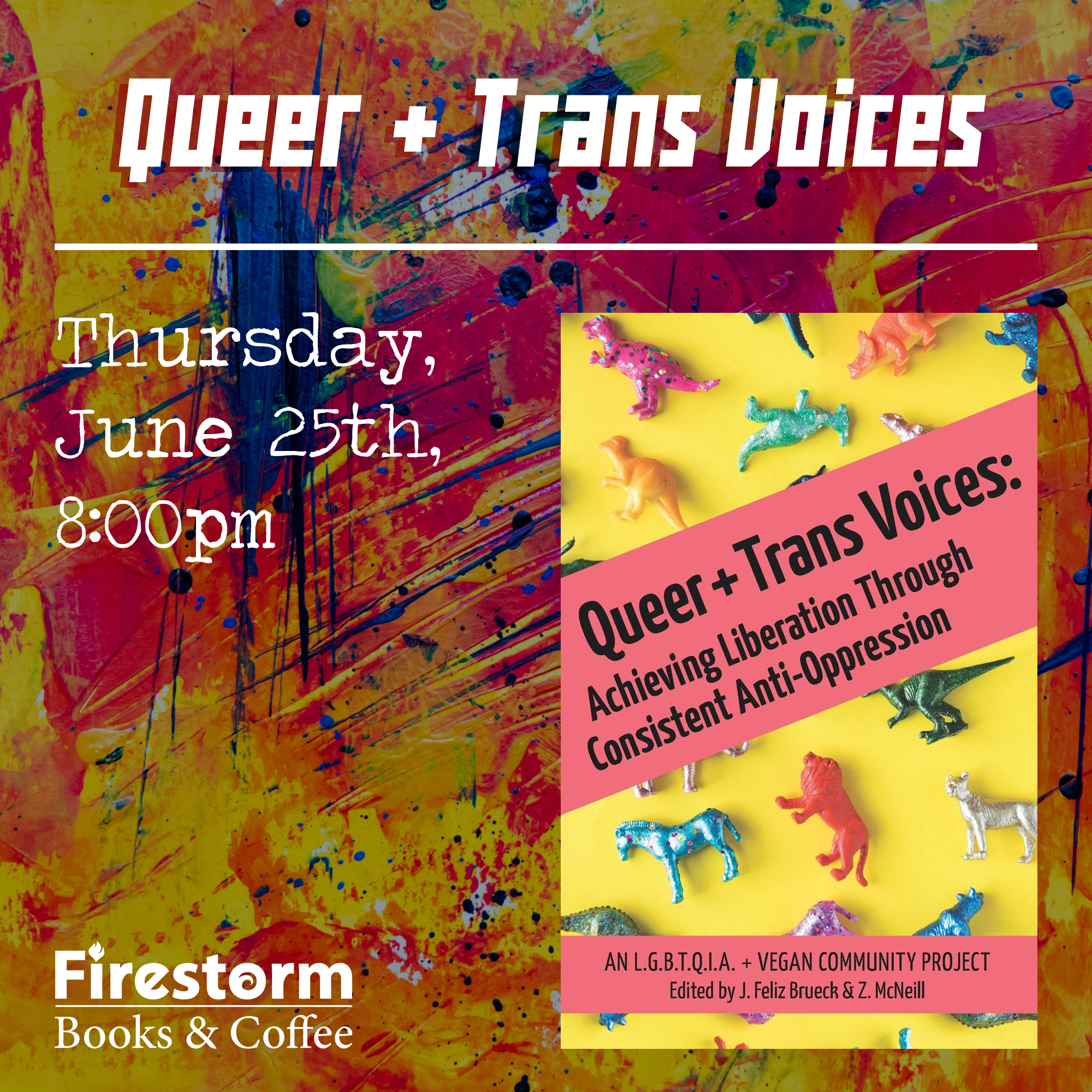 Jun 25th, 2020
Liberation Through Consistent Anti-Oppression
Join Julia Feliz Brueck and Zoie (Zane) McNeill for an online discussion of intersectional liberation. Building on their new collection Queer and Trans Voices, we'll explore the link between the animal rights movement and LGBTQIA+ struggles.
With a focus on building bridges between movements and dismantling hierarchies between oppressed groups through consistent anti-oppression, Queer and Trans Voices: Achieving Liberation Through Consistent Anti-Oppression follows the concise and to-the-point style of resource activist and author Julia Feliz Brueck. In this volume, Feliz Brueck and queering activist-scholar Zoie (Zane) McNeill collaborate to raise the voices of LGBTQIA+ vegans across the world working to acknowledge the interconnections between social justice groups in order to consistently and effectively achieve liberation for all.
To register, send an email to venue@firestorm.coop with the subject title "Consistent Anti-Oppression" and we'll send you the registration link.
---
Born and raised in Puerto Rico, Julia Feliz is a resource activist, writer, illustrator, and educator with a focus on consistent anti-oppression advocacy. They are the founder of SanctuaryPublishers.com – a non-traditional, grassroots publisher working to build bridges and raise voices. Learn more about Julia via JuliaFeliz.com
Z. Zane McNeill is a dirt queer from Appalachia fighting for y'all to really mean all. They are a genderqueer activist-scholar, socially-engaged artist, and 10-year vegan passionate about consistent anti-oppression work that uplifts the most marginalized within our communities. He is currently working on a community-building project raising queer voices in Appalachia, and establishing a collective guide on how to do activist scholarship/be an activist scholar.