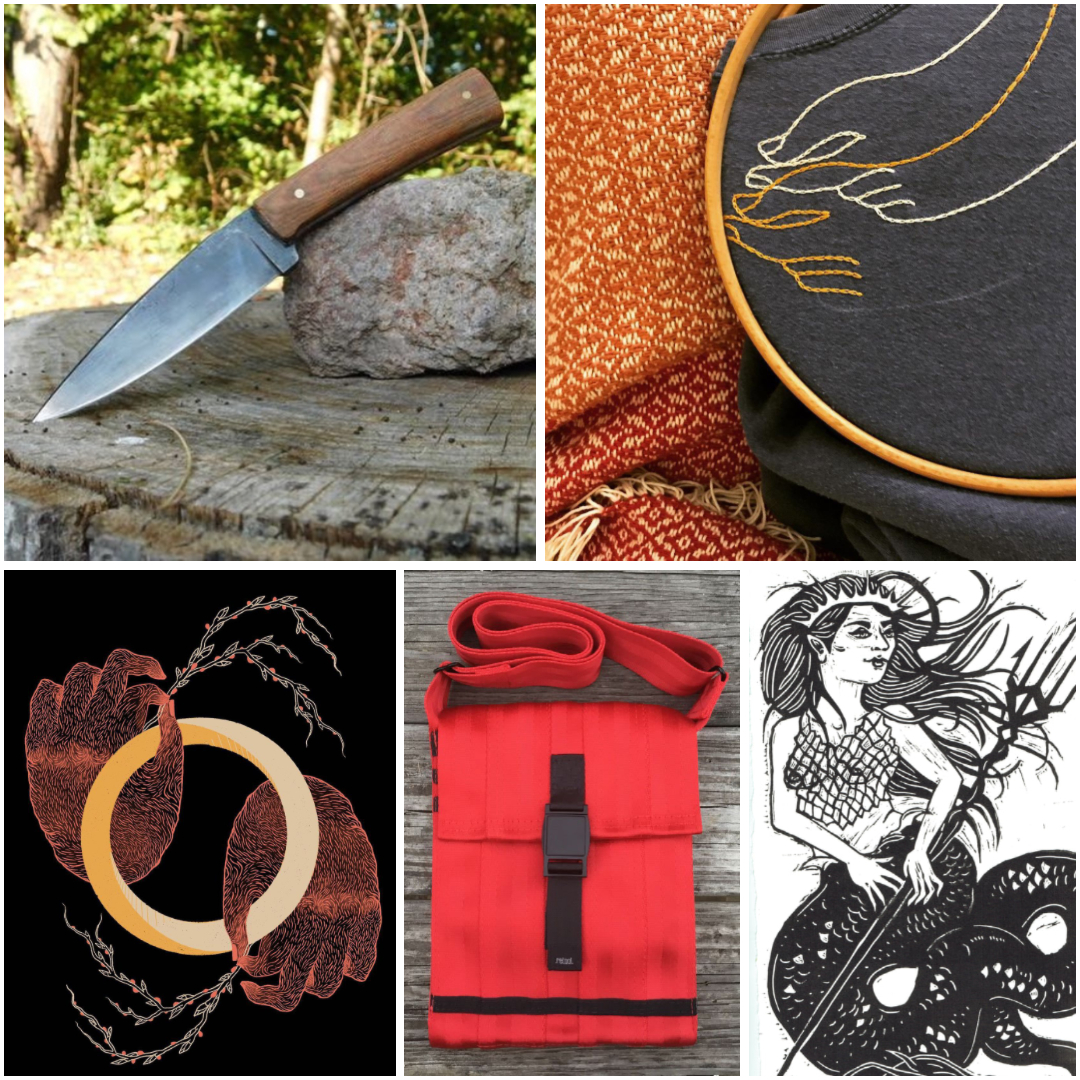 Dec 21st, 2019
Holiday Craft Pop-up! #3
The final of three pop-up craft sales featuring the work of six local artists. This event is both a great opportunity to grab some unique, locally made art and a fundraiser for the Firestorm Community Sustainers Program!
Emily Eagan is an artist of multiple mediums, including drawings, prints, paint on denim vests, and bleach on upcycled clothing. Nature, animals, and magic inspire Emily's stickers, pins, and hand bound/printed notebooks. emilyeaganart.com
Eva Leach is a functional potter whose handmade work is intended to bring joy to your daily rituals through simple forms and subtle but interesting surfaces.
Harvest Gap Forge is the work of a 17 year old emerging artist-blacksmith from the Reems Creek Valley who forges objects for the home and shop. instagram.com/HarvestGapForge
PHLOX creates hand-embroidered clothing as well as prints and original artwork. instagram.com/_phlox_
Retool designs and makes vegan accessories including wallets, belts, bags, and straps. They love using repurposed materials like seatbelt webbing. etsy.com/shop/retoolsf
Sleepybowie makes weird junk for your weird lyfe, including celebrity hybrid watercolors (Danny Devito as a ham!) and monsters sewn from repurposed sweaters. etsy.com/shop/sleepybowie
The Full Series
December 14th
Including Abacus Corvus Artwork, Bear Dog Designs, Ell's Nalbinding, Plants and Knits, Running Rabbit Art, Sam Davis, and Waymaker Creations
December 15th
Including Analog Adornments, Chrysalis Earth Farm, The Dicey Dungeon, MKR Fiber Arts, Talia Scarpelli, and Weedlady Herbals and Punkcraft
December 21st
Including Emily Eagan Art, Eva Leach, Harvest Gap Forge, PHLOX, Retool, and Sleepybowie