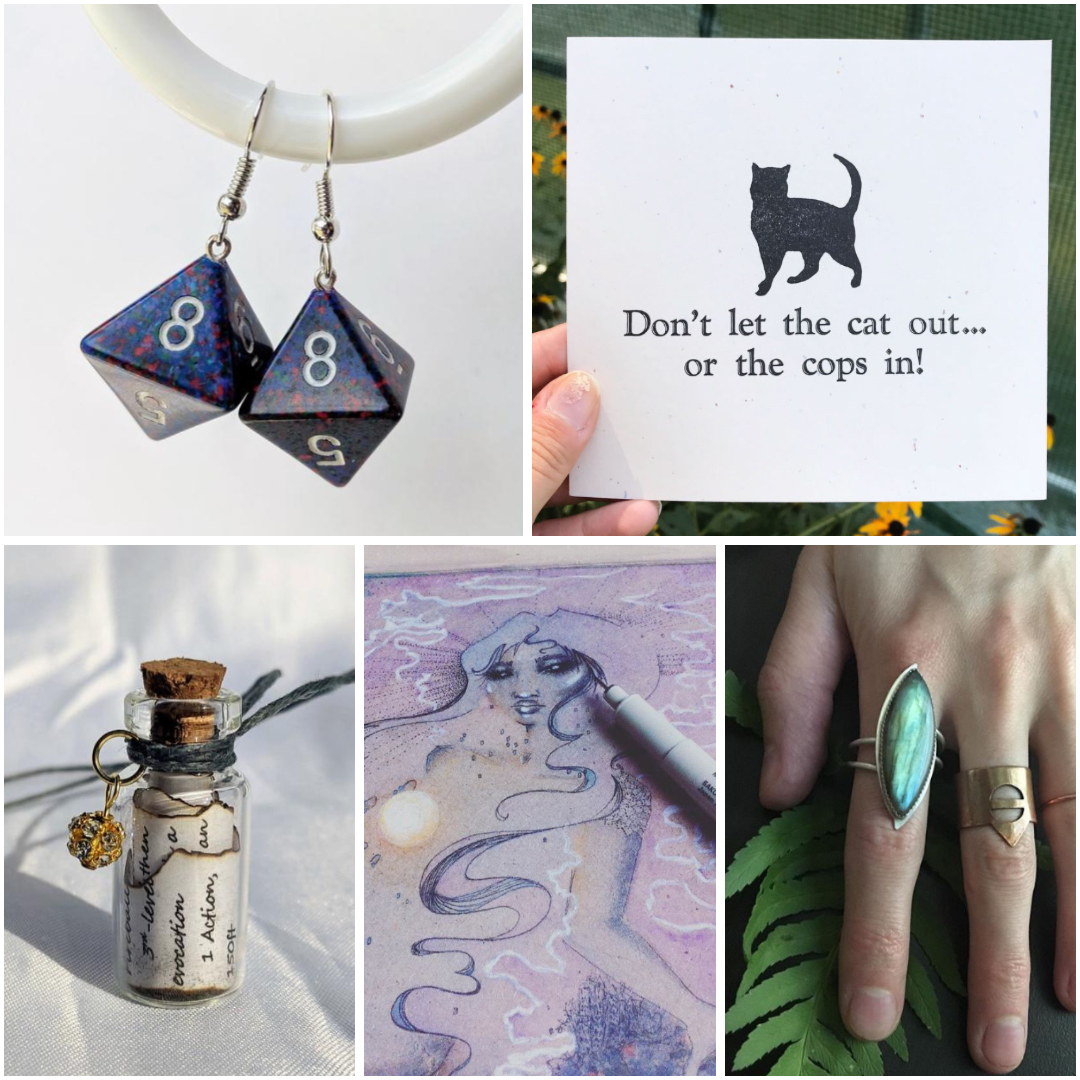 Dec 15th, 2019
Holiday Craft Pop-up! #2
The second of three pop-up craft sales featuring the work of six local artists. This event is both a great opportunity to grab some unique, locally made art and a fundraiser for the Firestorm Community Sustainers Program!
Analog Adornments is a nonbinary jeweler who creates ritual-infused mixed metal and mineral statement pieces to empower people through their self-expression. instagram.com/analogadornments
Chrysalis Earth Farm is a small regenerative farm in Sylva, making products from full spectrum, minimally processed, hemp CBD oil grown outdoors in the sun, rain and living soil. chrysalisearthfarm.org
The Dicey Dungeon makes cute loot, RPG gear, and handcrafted dice-wear. etsy.com/shop/thediceydungeon
MKR Fiber Arts creates embroidery and more inspired by the natural world.
Talia Scarpelli's work spans several mediums, from letterpress printing to embroidered cat toys to watercolor paintings. Equally cute and creepy, it often depicts monsters, decay, and the tiny universes beneath our feet. taliascarpelli.bigcartel.com
Weedlady Herbals and Punkcraft makes a variety of homemade herbal products—festive syrups, tea blends, salves and oils as well as medicines to support the mind and body through the winter months—plus one-of-a-kind punk-inspired accessories and clothing. facebook.com/weedladyherbalsandpunkcraft
The Full Series
December 14th
Including Abacus Corvus Artwork, Bear Dog Designs, Ell's Nalbinding, Plants and Knits, Running Rabbit Art, Sam Davis, and Waymaker Creations
December 15th
Including Analog Adornments, Chrysalis Earth Farm, The Dicey Dungeon, MKR Fiber Arts, Talia Scarpelli, and Weedlady Herbals and Punkcraft
December 21st
Including Emily Eagan Art, Eva Leach, Harvest Gap Forge, PHLOX, Retool, and Sleepybowie