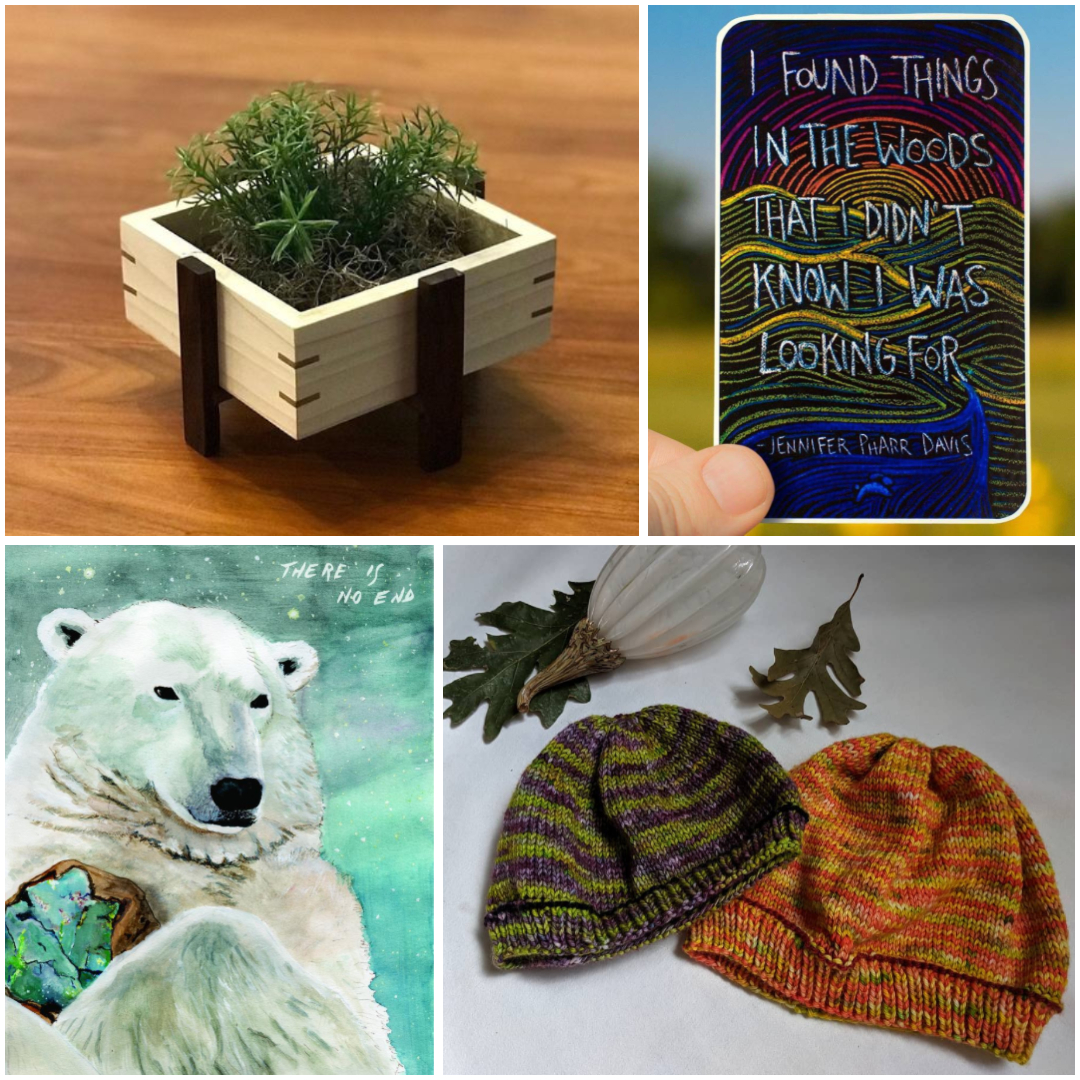 Due to COVID-19, we have canceled all events through March 31st.
Learn more
Dec 14th, 2019
Holiday Craft Pop-up! #1
The first of three pop-up craft sales featuring the work of six local artists. This event is both a great opportunity to grab some unique, locally made art and a fundraiser for the Firestorm Community Sustainers Program!
Abacus Corvus Artwork is the creative collaboration of Corina Dross and Jocelyn (Jo) Mosser, who create colorful collaborative illustrations of nature and animals with heartfelt spells, made to help folks live a more supported existence in these dire times. abacuscorvus.com
Bear Dog Designs makes modern home goods to encourage our collective curiosity and interest in our lived environments, with a twist. From modern plant stands and industrial lamps, to flower presses and marquee box lights, each piece is an expression of love for sustainably-sourced local materials. beardogdesigns.com
Ell's Nalbinding uses a traditional fiber art technique called nalbinding—like knitting but with one needle and each stitch is a knot—to make hats, socks, mason jar cozies, lil baskets, and more. facebook.com/EllsNalbinding
Plants and Knits is a fiber artist selling hand-dyed yarn and hand-knit items, particularly beanies and scarves with color schemes inspired by the Blue Ridge Parkway and witchcraft. instagram.com/plants.and.knits
Running Rabbit Art sells stickers, postcards, greeting cards and more. The work includes original art that is hand-drawn on a chalkboard, featuring environmentally-focused quotes from prominent writers, and inspired by the beauty of our Appalachian ecosystem. instagram.com/running.rabbit.art
Sam Davis is an eclectic designer who focuses on vector art with themes of animals, queer art, progressive religion, and geography through stickers and apparel. redbubble.com/people/reallyjustsam
Waymaker Creations is a multi-media artist offering prints, originals, pronoun pins, and stickers! facebook.com/crowe.waymaker
The Full Series
December 14th
Including Abacus Corvus Artwork, Bear Dog Designs, Ell's Nalbinding, Plants and Knits, Running Rabbit Art, Sam Davis, and Waymaker Creations
December 15th
Including Analog Adornments, Chrysalis Earth Farm, The Dicey Dungeon, MKR Fiber Arts, Talia Scarpelli, and Weedlady Herbals and Punkcraft
December 21st
Including Emily Eagan Art, Eva Leach, Harvest Gap Forge, PHLOX, Retool, and Sleepybowie