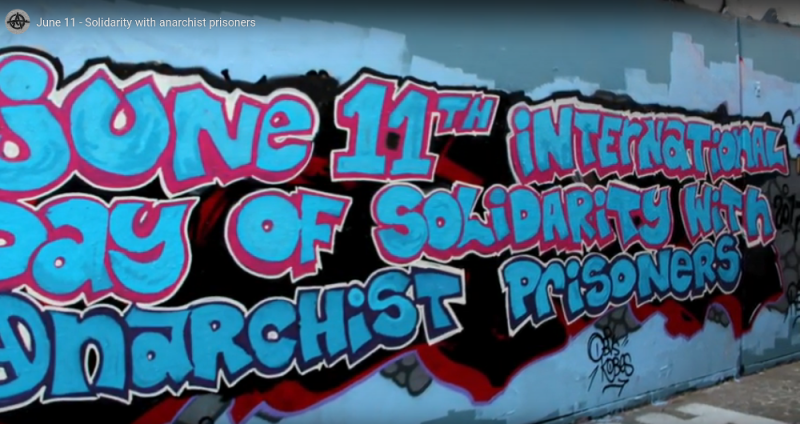 Jun 11th, 2019
International Day of Solidarity with Long Term Anarchist Prisoners
June 11th is a day for remembering anarchists who are serving long prison sentences, generating support for them, and inspiring solidarity actions. This year our collective is hosting a vegetarian potluck, followed by two short films. Not sure what anarchism is all about or why anarchists are in prison? Come learn more!
Please bring $5-20 to donate to Marius Mason's support fund. If you are able to contribute a dish to the potluck, vegan and gluten-free items are encouraged.
June 11th is a way of combating amnesia, of trying to sustain a long-term memory in the anarchist space. Not only does this generate support for anarchists locked in the state's prisons, it forces us to look back at what came before. Considering what previous generations did can both inspire us with ideas we've forgotten, and help us understand how our current practices came to be.
About Marius Mason
The person who has been the focus of June 11th the longest is Marius Mason. Marius is an anarchist, environmental and animal liberation activist who is currently serving a 22 year prison sentence. He plead guilty to taking part in an arson of a Michigan State University lab conducting GMO research for Monsanto in 1999, as well as twelve other acts of property destruction. Marius was imprisoned in 2009 during the Green Scare, a time when the U.S. federal government was cracking down on earth and animal liberation struggles. He was incarcerated in a high security unit until 2017 when, after constant advocacy by outside supporters, he was moved to general population. Finally, earlier this year Marius was moved from Carswell to Danbury, where he is much closer to many of his friends and family. In 2014, he came out publicly as transgender, using he/him pronouns, and eventually secured access to hormone treatment in 2016. For more information, check out the website his support team maintains.