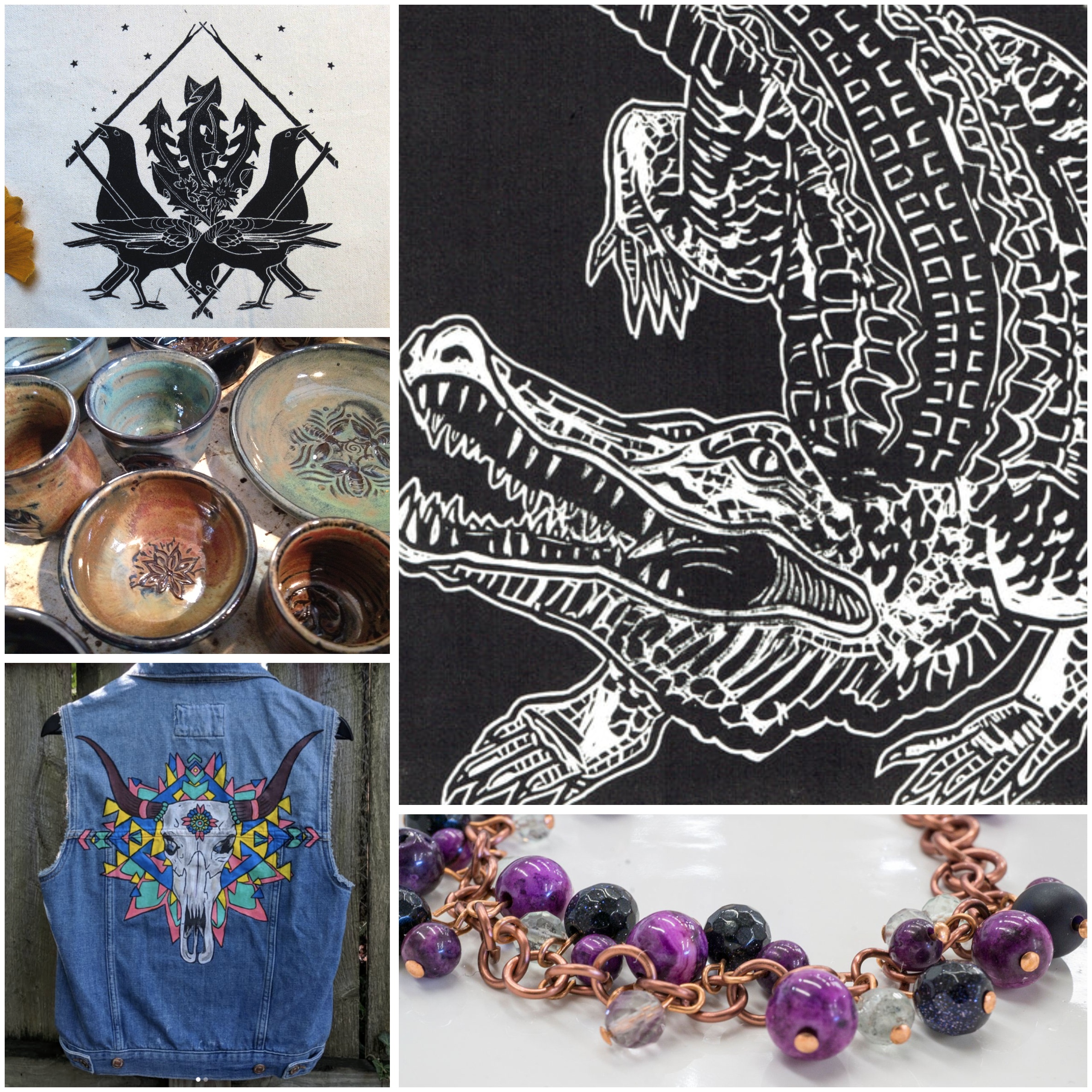 Dec 22nd, 2018
Holiday Craft Pop-up! #3
The last of three pop-up craft sales featuring the work of Abacus Corvus Artwork, Emily Eagan Art, HTV Jewelry, and Marston Blow of Ceramic Song. This event is both a great opportunity to grab some unique, locally made art and a fundraiser for the Firestorm Community Sustainers Program!
Abacus Corvus Artwork is the creative collaboration of Corina Dross and Jocelyn (Jo) Mosser—sister witches, illustrators, and rabble rousers. They'll be set up with their limited edition 2019 calendars as well as prints, postcards, magnets, patches, stickers—and Corina's beloved Portable Fortitude playing cards. abacuscorvus.com
Emily Eagan is an artist of multiple mediums, including drawings, prints, paint on denim vests, and bleach on upcycled clothing. Nature, animals, and magic inspire Emily's stickers, pins, and hand bound/printed notebooks. emilyeaganart.com
HTV Jewelry creates handmade copper, sterling, titanium jewelry with semi-precious stones. htvjewelry.bigcartel.com
Marston Blow of Ceramic Song is best known for her ceramic singing bowls which emit a resonant tone when played similar to Tibetan prayer bowls. Her elegant curvy pottery displays earth symbols such as mermaids, bees, trees and more. A founder of the River Arts District who was gentrified out—don't miss this opportunity to collect one of her beautiful works! ceramicsingingbowl.com
The Full Series!
December 15th
Including Talia Scarpelli, MKR Fiber Arts, and Retool
December 16th
Including Bear Dog Designs, Sticks & Stones Craft Collective, and Madeline Owen
December 22nd
Including Abacus Corvus Artwork, HTV Jewelry, Ceramic Song, and Emily Eagan Art