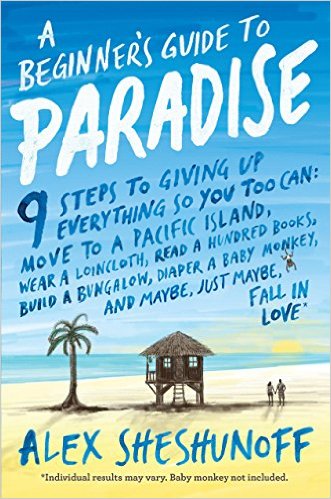 Oct 8th, 2015
"A Beginner's Guide to Paradise"
From the author of a lot of emails and several Facebook posts, a laugh-out-loud, true story of how a quarter-life crisis led to adventure, freedom, and love on a tiny island in the Pacific.
In his mid-twenties, Alex Sheshunoff had his own internet start-up and had made national news. But he was also burnt out. So he bought a one-way ticket to Yap, giving up everything he was supposed to want in search of all the things he never knew he needed.
Along the way, he answered some important questions and some less essential ones too, such as:
How much, per pound, should you expect to pay a priest to fly you to the outer islands of Yap?
If you could have just one movie on a remote Pacific island, what would it definitely not be?
How do you blend fruity drinks without a blender?
Is a free, one-hour class from Home Depot on "Flowerbox Construction" sufficient training to build a house?
While in the Pacific, Alex learned a lot. About making big choices and big changes. About the parts of Paradise that don't make it into the brochures. About the locals and expats he encountered, offended, and befriended. And, most of all, about focusing on what you actually care about.
Now, Alex shares his incredible story in a book that will surprise you, make you laugh, take you to such unforgettable islands as Angaur and Pig, and perhaps inspire you to find your own little place in the sun.